Highlights
Mahesh Hegde was charged for spreading fake, communally sensitive news
PM Modi is among those who follow Mr Hegde on Twitter
The portal had been charged with posting content inciting communal hate
Karnataka:
The co-founder of online portal "Postcard News", Mahesh Vikram Hegde, was arrested in Karnataka on Thursday on charges of spreading fake and communally sensitive news. The editor has been charged under cybercrime laws with inciting religious hate and conspiracy.
Mr Hegde's arrest is based on his tweet on March 19 on an accident involving a Jain monk. His portal had reported that Upadhyaya Mayank Sagar Ji Maharaj was hit by a drunk biker, who is Muslim. "Very sad news, yesterday in Karnataka Jain muni attacked by Muslim youth. No one is safe in Siddaramaiah's Karnataka," the editor had said in the tweet that was on the Postcard News handle and was retweeted several times. Prime Minister Narendra Modi is among those who follow Mr Hegde on Twitter.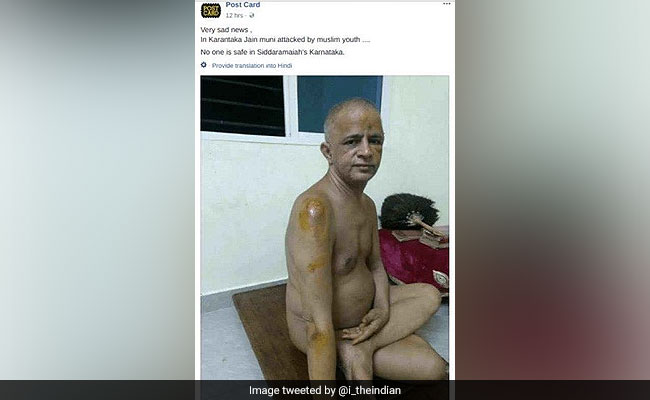 The incident was falsely reported, say the police. A leader of the state's ruling Congress reportedly filed a complaint against the site and its founder.
The portal had earlier been charged with publishing content that incites communal hate.
In December, Postcard News had published a controversial article on a legendary 18th century Chittor Queen, Chennamma, which provoked much outrage.
Just ahead of the
Karnataka election
, in which the ruling Congress faces a tough challenge with the BJP campaigning aggressively to wrest the state, the arrest has fueled a political outcry.
The opposition BJP in the state has condemned the editor's arrest.
"The arrest was a deplorable move by the Siddaramaiah government," said BJP parliamentarian Pratap Simha.