Mysuru:
The tradition of the Vijayadashami procession in Mysuru was started by the Wodeyar royalty over four centuries ago. And the pomp and pageantry continues to this day at Amba Vilas, the Mysuru palace, even though there is no royalty in the Republic of India any more.
On Saturday afternoon, the sound and colour of the festival began with Yaduveer Krishnadatta Chamaraja Wodeyar, the young man who would have been considered the Maharaja in earlier years, worshipping at the Banni temple on the palace premises. The US educated Yaduveer arrived at and departed from the temple in a traditional silver chariot.
Soon after, Chief Minister Siddaramaiah performed a puja at the Balarama gate of the palace to kick off the Vijayadashami procession. The procession started from the palace and continued for 5 kilometres to the
Banni Mangala
where a torchlight parade was held.
The procession started with the grand display of the elephants, who this year, were painted and decorated, with their names displayed on their broad foreheads.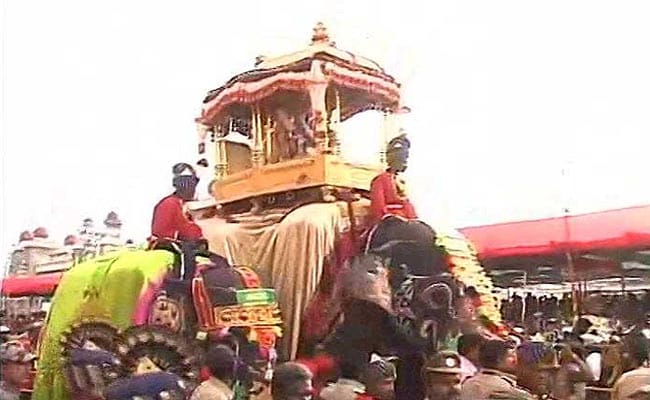 After the elephants, many floats promptly followed, depicting various aspects of Karnataka- from Bengaluru founder, Kempe Gowda to the Indira canteens and schemes promoted by the ruling Congress government.
Traditional dancers and musicians dressed in spectacular costumes and performers on stilts further infused the procession with pomp and grandeur.
As the procession came to an end, the magnificent elephant Arjuna, walked tall, carrying the idol of goddess Chamundeshwari on his back, accompanied by two beautiful companion elephants on his side.
One of the elephants, Vijaya, seemed a little confused as she approached the Balarama gate of the palace premises. She had to be coaxed back into line as Arjuna, towering over her, waited patiently.
But it was noisy, crowded and a far cry from the elephants' usual forest home. While they go through the paces of the procession year after year, one can't help but wonder if these magnificent creatures would rather be elsewhere.
The weather was kind this year, with none of the rain that lashed Mysuru a few days back returning today. It was not too hot either.
To wrap up each day of the ten day festival, the Amba Vilas palace was lit up with almost 100,000 lights, a visual and sensory feast to the eyes. At around 6.45 pm on the final day, there was a power cut - and the palace had gone completely dark. This was a very unusual occurrence, but things were soon back to normal.
Mysuru Dasara was a sight to behold, with a grand visual spectacle that is to be expected from Karnataka's
nada habba
or state festival.