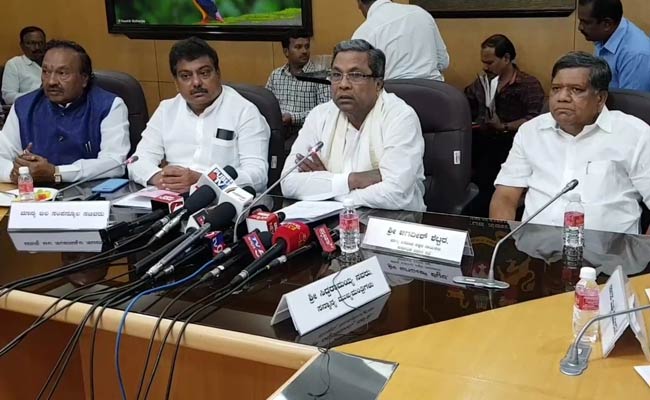 Bengaluru:
Calling it a demand of the people of Karnataka, the state government today said that the tribunal formed by the central government to solve the Mahadayi water sharing dispute should settle the issue by August 20.
Chief minister Siddaramaiah today met floor leaders of both houses of the state legislature. Representatives from the Congress, BJP and JD(S) came to discuss the state's stand. In an election year, no party in the state wants to be seen on the wrong side of the fence when it comes to the nearly four-decade-old water sharing dispute.
After the meeting, irrigation minister M B Patil said, "Keeping in view the severe drinking water problem in Belgaum and parts of Dharwad, Bagalkote and the agitation over there, the state government and the legal team agreed that we should not agree for an extension of time for the Tribunal. Today we called and told the opposition leaders of our decision. Both Jagdish Shettar and Eshwarappa (of the BJP) said they were of the same opinion. They said there should not be an extension and the tribunal should have frequent hearings so that the matter is settled by August 20. This is the demand of the people. They are already frustrated and the matter has been going on for the last 600 odd days".
The tribunal that was initially asked to give its report by August 20, 2016 has already got two extensions of one year each.
Karnataka wants to build an irrigation project on the Mahadayi river to provide more water to the arid northern districts of the state. But Goa and Maharashtra are concerned about what this would mean for their water supply from the river. The issue has seen bandhs and other protests in Karnataka demanding the intervention of Prime Minister Narendra Modi.
Mr Patil said noted jurist Fali Nariman remained the advocate and legal advisor to the state government on the Mahadayi issue. But as he has had a bypass surgery and has been advised six months' rest, the case would be argued by former attorney general Ashok Desai under Mr Nariman's supervision.
The water dispute had seen friction between the ruling Congress and the opposition BJP in the state after Goa chief minister Manohar Parrikar had responded to BJP state party chief BS Yeddyurappa on the issue and not to the chief minister. There had been protests outside the BJP office in Bengaluru by farmers who said Yeddyurappa had broken his promise of solving the issue by December.
Speaking to reporters yesterday, Mr Parrikar said the tribunal would decide on the water sharing issue, adding that all other discussions were only of "academic interest".