Bengaluru:
Highlights
The man has been arrested under the Juvenile Justice Act
He brutally thrashed the boy for lying; video shot to scare child later
Video leaked after mother took her phone for repairing
A frail, 10-year-old boy pleads to his father for forgiveness - hand stretched out, tears rolling down. It doesn't work. Ignoring the wails, the father smacks the child's hand with a mobile charger, hard. Over the next two minutes, the assault on the child in Bengaluru - a video of which was shot by the mother and is now viral on social media - gets unbearable to watch.
The father, in his thirties, goes on to strike the 10-year-old with the charger about seven times. Slaps follow, and then the man grabs his son by the throat, lifts him above his head and slams him down on the bed. And repeats it twice over.
The horror doesn't end there. The enraged man keeps slapping and slamming the boy as the cries get louder. Tossing his son to the floor, the man then starts kicking the boy behind the neck multiple times - with enough force that causes the child's head to bounce off the floor.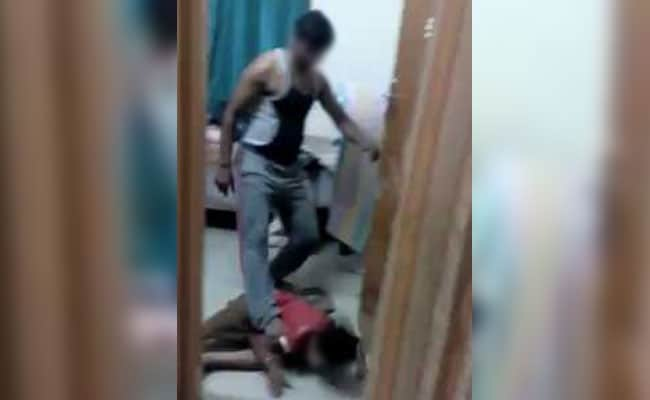 "How many time I have told you not to tell a lie," he tells the child, who cowers in fear while replying, "Yes, you have. Several times."
"No child can lie like you," the mother, who is shooting the video on her phone, can be heard saying.
Terrified, the child keeps asking for another chance.
The brutal thrashing was recorded by the mother on the father's insistence. He, reportedly, wanted the video to be shown to the boy so that he doesn't lie again.
The incident is about two months old, but has surfaced now after the woman gave her phone for repairs at a mobile repair shop and asked for the data to be preserved.
The shopkeeper, who saw the video, informed an NGO, which approached the police. The father has been arrested today under the Juvenile Justice Act.
"We have arrested the father under the Juvenile Justice Act. The matter is being investigated... We have charged him under the Juvenile Justice Act 82 and the Indian Penal Code Sections 323 and 506," said M N Anuchaith, Deputy Commissioner of Police Bangalore West Division.
The boy, according to the police, has not suffered any major injuries from the beating.
Get Breaking news, live coverage, and Latest News from India and around the world on NDTV.com. Catch all the Live TV action on NDTV 24x7 and NDTV India. Like us on Facebook or follow us on Twitter and Instagram for latest news and live news updates.