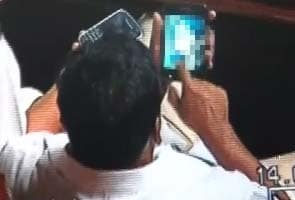 Bangalore:
In Karnataka, seven MLAS are investigating the politics-and-porn scandal. Their committee's task is to investigate how and why three former ministers were watching porn on a cellphone while the Karnataka Assembly was in session earlier this month. But curiously, they also want the media to defend its role.
A television channel recording the proceedings in the assembly caught the ministers' x-rated viewing on camera. Lakshman S Savadi, CC Patil and J Krishna Palemar had to resign, and cannot enter the Assembly till the committee completes its inquiry. But the same committee also wants to serve questionnaires to television media companies. They'll be asked whether they believe it's correct to record material inside the Assembly beyond the official proceedings. The committee also wants to know why some local channels broadcast the clip of the ministers watching porn "despite knowing that the visuals are unparliamentary". The questionnaire also suggests that by airing the expose, the channels violated the right to freedom of expression.
The Speaker of the Assembly has already suggested that the Assembly will now follow the Lok Sabha model and use its own cameras - at a cost of nearly 25 crores - to record proceedings. Cameras of private TV channels will not be allowed into the Assembly.