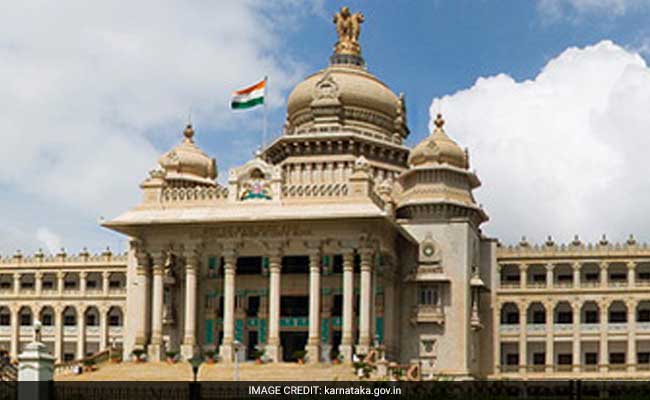 Bengaluru:
Karnataka's legislators came together across party lines today to reject a motion seeking that they reconsider the punishment of a year each in jail handed by the state assembly to two editors of Kannada tabloids for breach of privilege. The assembly had sentenced the editors to the jail term and had fined them Rs 10,000 each in June this year, over what it called their defamatory articles against state legislators.
The assembly rejected the resolution to reconsider the punishment and fine on Ravi Belagere, Editor of 'Hi Bangalore', and Anil Raju, Editor of 'Yelahanka Voice,' by a voice vote. Only three MLAs reportedly argued that the punishment be reviewed. Some suggested that it be doubled.
The June resolution that punished the journalists based on the recommendations of the Privileges Committee of the House, had led to widespread protests from the media. The Editors' Guild of India called it "gross misuse" of power which "violates" the fundamental right of freedom of speech.
Mr Belagere and Mr Raju had petitioned the High Court against the sentence, contending that it was "illegal and unconstitutional." The court had disposed the petitions, advising the Editors to find "an amicable solution."
The journalists then met Karnataka's Speaker KB Koliwad and sought that the punishment be reconsidered, making arguments and representations through lawyers. The Speaker had placed their petition before the House today.
The motion was moved by the state's law minister TB Jayachandra. The BJP's SR Vishwanath, who had complained against Anil Raju for allegedly writing defamatory articles against him, spoke first, saying the Editors' plea to reconsider the sentence must be rejected outright.
"Despite privilege being moved against him, he (Raju) continued to write against me. They should have been punished by now.Instead their punishment should be increased," the BJP legislator said.
MLAs from rival parties supported Mr Vishwanath, among them SR Mahesh of the Janata Dala Secular and Ashok Pattan, GS Srinivas, Vijayananad Kashappanavar and Lobo of the ruling Congress. Mr Pattan said the petition should not even have been brought to the House.
However, the BJP's Suresh Kumar sounded a word of caution. "There are some opinions. Whether it comes under the ambit of privilege, we don't know. We should act cautiously, because this may go to the court tomorrow," he said. YSV Datta of the JDS said he agreed with Mr Kumar.
Intervening, Health Minister Ramesh Kumar said that by questioning the merits of the privilege committee decision,the Editor's, in their reconsideration plea, have questioned the wisdom of the members. "Looking at it, it deserves to be rejected. They should have instead pleaded for mercy without going into the merits," he said.
The Karnataka assembly's Privileges Committee had recommended jail for Mr Belagere for allegedly publishing articles against Mr Koliwad in 2014, when he was not the Speaker. The then Speaker Kagodu Thimmappa had referred the matter to the committee after Mr Koliwad complained.
(With inputs from PTI)