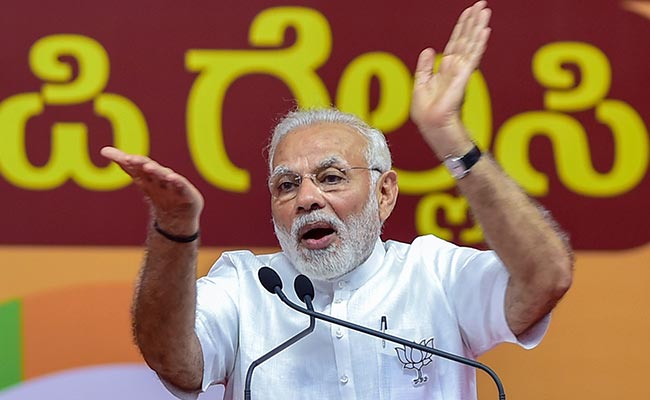 BENGALURU:
Prime Minister Narendra Modi today balanced the generous praise he had heaped on rival Janata Dal Secular, or JDS, leader HD Deve Gowda with his assessment of Deve Gowda's party in next week's assembly election. PM Modi said the laggard JDS's best performance could take it no further than the third place in the race for power in Karnataka and asked people to vote the BJP instead.
"You ask any political pundit... Everyone is of the opinion that
JD(S) will finish as the poor
, distant third," he said at a public meeting in Karnataka capital Bengaluru, the last of the three rallies he addressed today.
PM Modi said sensible voters would not vote for the JDS because it cannot form the government or come to power and change Karnataka's future. "So why would a sensible voter waste their vote on them," he said, just days after he had heaped praise on former PM Deve Gowda, who had come across as his sharp critic in 2014 general elections.
In the last Karnataka election five years ago, the Congress won 122 of the 224 seats and
Deve Gowda's Janata Dal (Secular) or JD(S)
and the BJP ended up with 40 seats each. But the BJP was then a divided house and its presumptive chief minister BS Yeddyurappa in this election, had floated his own party that competed with the BJP.
Opinion polls claim that voting on May 12 could conclude with no party getting a simple majority - and Mr Gowda's
JDS could be the decision-maker.
The Congress and its president Rahul Gandhi have repeatedly accused Mr Gowda's JDS of being a proxy -
"the B-team" - for the BJP
and urged voters to spurn the JDS too.
PM Modi's praise for Mr Gowda - the former PM effusively returned the compliment today - was widely seen as evidence of the
two parties open to a tie-up in the future.
There have been also suggestions that PM Modi unreserved admiration for Mr Gowda was also an effort to reach out to his support base including the influential Vokkaliga community that can affect the
outcome in 43 of the state's 224 seats.
At his Bengaluru rally, PM Modi, however, more than made up, targeting the
JDS alliance partners
. The JDS has tied up with Mayawati's Bahujan Samaj Party which has been allocated 20 seats and was received promises from other parties such as Asaduddin Owaisi's AIMIM.
The JDS had joined hands with extremists and communal forces and by doing so, has put the future of Karnataka at stake, PM Modi said, before resuming his sharpest attacks for the Congress and Chief Minister Siddaramaiah.