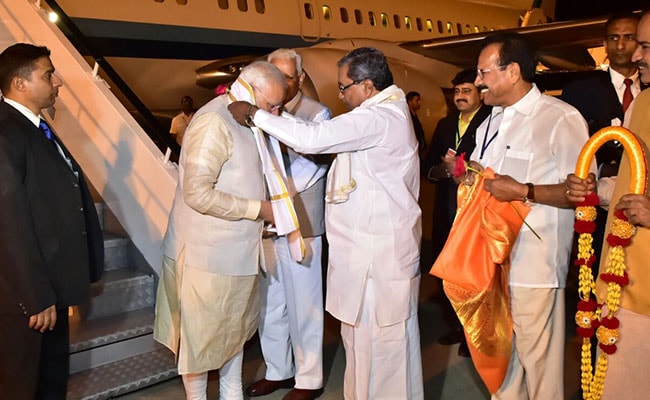 Bengaluru:
The assembly elections in Karnataka barely months away, the BJP has started a high-profile campaign in the state, spear-headed by Prime Minister Narendra Modi and party president Amit Shah. On Sunday, as Canadian Prime Minister Justin Trudeau was in the national capital, PM Modi had landed in Chief Minister Siddarmaiah's home turf Mysuru with a number of engagements. Before he left on Monday, Amit Shah landed in the state for a two-day visit.
Mr Shah has a long to-do list - including chairing party meetings, addressing students and visits to temples. But its highlight is expected to be a meeting with the family of Deepak Rao, a BJP worker who was murdered at Surathkal in last month. The visit is meant to underscore the party's claims that in the recent years, more than 20 of its workers and those of its ideological mentor Rashtriya Swayamsevak Sangh, have been murdered in the state.
Karnataka is the only state in the south where the BJP had been in power and it is going all-out to wrest the state from the Congress in the coming assembly elections. The party has pitched the lack of law and order enforcement as one of its key allegations against the Congress.
Earlier this month, at a rally in Bengaluru, PM Modi had attacked the Siddaramaiah government, saying Karnataka is becoming known for its "ease of doing murder". The matter has been raised also by Uttar Pradesh Chief Minister Yogi Adityanath, who, too, held a political rally in the state.
Mr Siddaramaiah has dismissed the BJP claims, citing the crime data from states ruled by the party. "It would be good if Modi looked at the top crime stats in the country... Uttar Pradesh and Madhya Pradesh are much worse than us," the Chief Minister had said.
At a function on Monday to flag off a new train, PM Modi accused the Congress government of non-performance, calling it a "government of commission". "What do you need? A government of commission or a government of mission? A government which asks for 10 per cent commission to work or a government which works with the mission for development?" the Prime Minister said.
The Chief Minister responded with a tweet, that took a dig at the Central government over the Rs 11,300-crore fraud in the Punjab National Bank linked to celebrity jeweller Nirav Modi.
PM @narendramodi makes disparaging comments about certain Mysurians.



Mysuru has produced Tigers who fought the British, built a modern state, brought land reforms.

Some one from Mysuru would never have allowed a fugitive runaway with 11500 cr under his Chowkidari. https://t.co/HW2q7ACNGN— Siddaramaiah (@siddaramaiah) February 19, 2018
Earlier too, Mr Siddaramaiah hit back with figures -- countering BJP claims that the state government has swallowed the many grants by the Centre. He also countered allegations on corruption, housing and schemes for the poor.