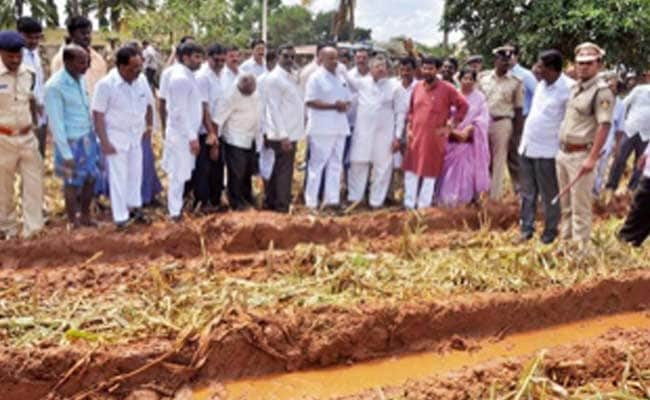 Bengaluru:
For Rahul Gandhi's rally in Karnataka on Saturday, crops have been cleared before harvest from an area roughly the size of three football fields.
A stage is being put up near a village in Ranibennur in central Karnataka for the Congress vice president's programme. To clear a four-acre patch, maize crop was allegedly destroyed.
Among the voices of criticism was that of noted historian Ramchandra Guha, who tweeted today: "A poor farmer in Karnataka loses valuable cropland to a stage built for Rahul Gandhi to come and go."
According to the Congress, which rules the state, Mr Gandhi will travel by helicopter to the spot and then go on a nine-km padyatra. The route of this foot-march has allegedly been cleared so the Congress leader won't be inconvenienced.
The Congress claims that the farmer had willingly cut his crop because he is a supporter.
Tens of thousands of people are expected to gather for Mr Gandhi's rally, and sources say patches are also being cleared for a makeshift parking lot.
Seizing the controversy, the BJP pointed at the irony that Mr Gandhi is to meet the families of farmers who have committed suicide after their crops failed because of drought.
"Farmers though it is a boon but it has turned out to be a big curse," said S Prakash, the state BJP spokesperson. "Razing 4 acres of crop and holding a meeting there is cruel. Is he holding a tamasha? A padyatra and meeting...is that what is needed?" he questioned.
The crop was supposed to be cut in 15 days, but was removed earlier for the high profile visit, alleged the party. Mr Gandhi's office has denied it.
"A small issue is being blown out of proportion to take away attention from the real intention, which is to meet farmers and see what we can do as a state government," said Congress spokesperson Dinesh Gundu Rao.