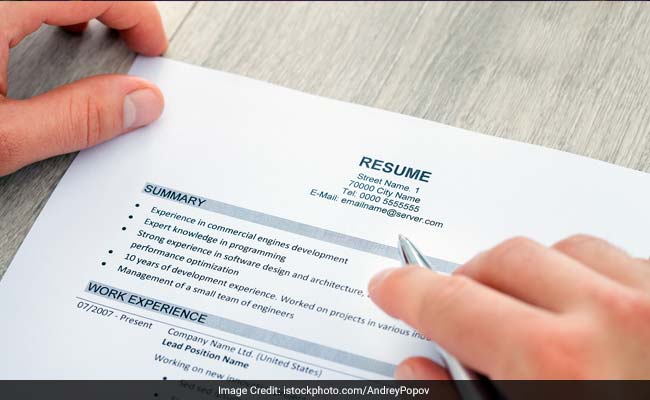 New Dellhi:
I was recently interacting with an ex-colleague who was job hunting and was constantly complaining that despite an impressive degree and considerable work experience she was not able to get calls from the kind of recruiters she expected. What was wrong with her qualification or work experience which was not attracting the right recruiters to her profile. Her concern was genuine which forced me to analyze what we generally do wrong and then it hit me. In most cases people look up online and prepare their resume or CV according to the first format they come across. Or like in my colleague's case people often continue using the resume format provided to them by the placement cell of the educational institute where they last studied.
While it's not wrong, it's not right either. A CV almost works as a bridge between you and a prospective employer. Following a format and doing what thousand others are doing is not going to do much in your favor. One of the most prevalent problems in most CVs is that people are unable to categorize their skills and end up listing their job responsibilities under the heading 'skills'.
Including 'Skills' section in your CV is a wise decision, since it lets an employer identify if you have the necessary skills to perform a job without having to go through the tedious listing of your previous job duties. Here we bring you three steps, as advocated by
a Forbes contributor
, in which you can polish your skills section and consequently your CV.
Read Here: What To Remove From Your CV In 2017?Step 1: The What
Make a list of all the responsibilities you have handled so far and put them in broad categories based on themes, that is responsibilities related to coding will fall in one category, responsibilities related to client support will fall in another category and so on. Once you have the broad categories sorted, you can easily identify skills and place them accordingly in your CV.
Step 2: The How
Now that you have the skills sorted, you need to rewrite them to highlight your expertise. Do not follow the previous practice of listing job duties, instead focus on highlight your expertise. If you were into client servicing for your previous company, focus on what's your expertise in the domain. Employers don't just want to know what skills you possess but also how does it apply to the job they have advertised. Keep this in mind when you make changes to your CV.
Step 3: The Results
Listing just the skills is not going to help. You also need to mention how your skills benefitted your previous employer. An impressive list of skills with equally impressive results is going to get you that interview call which has illuded you till now.
Click here for more
Jobs News