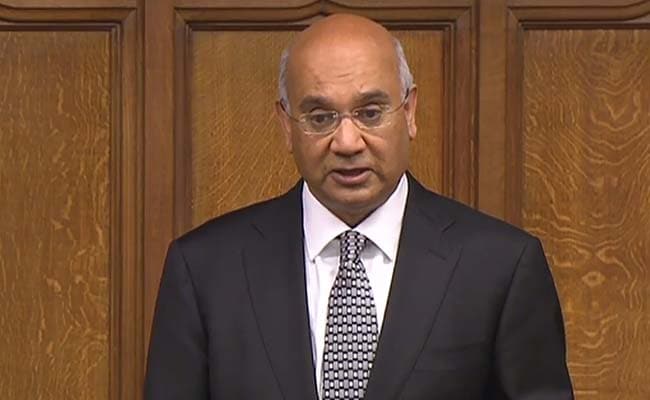 London:
Keith Vaz's wife today came out in his defence saying though she felt "betrayed" she would forgive him as he was "not a bad person" after UK's longest- serving Indian-origin MP was embroiled in a sex scandal involving male prostitutes.
Maria Fernandez said she felt "betrayed" after the 'Sunday Mirror' claimed in a report that the 59-year-old Vaz paid for two male prostitutes and made references to drugs, but has decided to give him a second chance.
"The shock was also the whole scenario of allegedly using sex workers because it is so unlike him," the 'Sun on Sunday' quoted her as saying.
The 57-year-old former barrister, who has two children with Vaz, said: "Keith is not a bad person."
Her comments came as it emerged that local police in the influential Labour MP's Leicester constituency had been looking into claims of misconduct.
According to a 'Sunday Times' report, four witnesses, including a former lord mayor of Leicester, last week confirmed they had been interviewed by Leicestershire detectives.
The inquiries have been going on for at least a year.
Leicestershire police refused to comment last week on whether Vaz was under investigation or whether the witnesses were being interviewed as part of a wider inquiry.
But one of the official police documents, a five-page witness statement seen by 'The Sunday Times', accuses the MP of intervening in the eviction of a council tenant in Leicester in 1991, who was suspected of providing "the services of young men for other men".
The witness said he was concerned about whether the intervention was an abuse of public office.
Andrew Bridgen, the Conservative MP for North West Leicestershire, said he had been aware of inquiries by Leicestershire police involving Vaz since last summer.
He said John Bercow, the Speaker of the House of Commons, had declined to raise the matter with the force.
Bridgen said: "I think it is deeply regrettable that the opportunity was not taken to establish whether Keith Vaz might have a conflict of interest when he chaired the Home Affairs Select Committee in relation to ongoing police inquiries."
He said that to a casual observer the affair had "all the hallmarks of an establishment cover-up".
A spokesperson for Bercow denied there had been any cover-up: "The Speaker has no power to 'suspend' select committee chairs nor any authority or right to suggest that they stand aside."