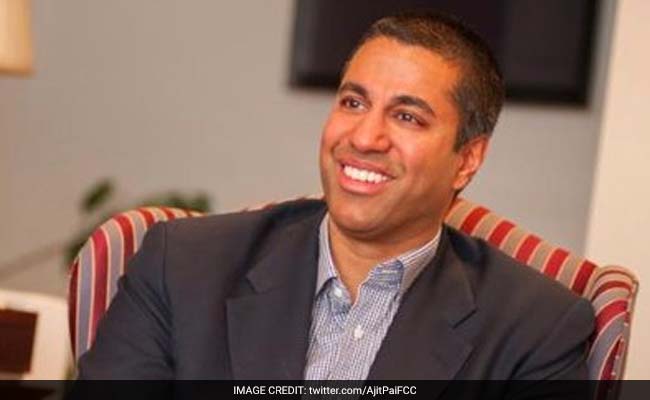 Washington:
The US Senate today confirmed the nomination of Indian-American Ajit Varadaraj Pai to serve as the chairman of the powerful Federal Communications Commission for the second time despite Democratic complaints that he will undermine net neutrality.
The Senate voted on a bitterly divided partisan lines to confirm Mr Pai's nomination for his second five-year term.
The FCC is an independent agency created by a Congressional statute to regulate interstate communications by radio, television, wire, satellite, and cable in all 50 states, the District of Columbia and US territories.
The vote was 52-41 for 44-year-old Pai, who has served as a commissioner at the FCC since 2012. He is the first Indian American to hold this post.
Speaking on the Senate floor against Mr Pai, Senate Minority Leader Chuck Schumer alleged that during his tenure as acting FCC Chairman, he has established a clear record of favouring big corporations at the expense of consumers, innovators and small businesses.
Mr Pai, he alleged, supported
Congressional attempts to reverse the FCC's 2016 broadband privacy rule,
which would have prevented big cable and internet companies from profiting off of personal internet data.
Now, internet service providers no longer have to obtain consumer consent before they sell or share sensitive personal data, he rued.
"Most disturbingly, Pai is currently attempting to dismantle the Open Internet Order, the net neutrality rules under which millions of consumers currently have access to a free and open internet," Mr Schumer alleged.
Ajit Pai, however defended his work. "Since January, the Commission has focused on bridging the digital divide, promoting innovation, protecting consumers and public safety, and making the FCC more open and transparent," he said.
Several lawmakers agreed with him.
Mr Pai has focused on the expansion of rural broadband and acceleration of next generation infrastructure deployment.
In defense of Ajit Pai, Republican Senator Roger Wicker said he is "working to establish the light-touch regulatory framework that allowed the internet to become the marvel of the modern age, keeping it free and open for consumers, innovators and providers. Internet technology will continue to thrive if we keep the heavy hand of government away from the controls."
Senator John Thune, chairman of the Senate Committee on Commerce, Science, and Transportation, said, "In recent weeks, Pai has worked tirelessly to help ensure communications services are restored to the communities affected by Hurricanes Harvey, Irma and Maria."
In just nine months since becoming Chairman, Mr Pai has also made much-needed reforms to improve transparency at the FCC and to improve the agency's processes, he said.
Senator Shelley Moore Capito said Mr Pai truly understands the need to bring more rural communities online and has shown a real commitment to closing the digital divide in America.
"Pai understands communications policy from just about every angle - no wonder, given his deep and impressive resume," said Senate Majority Leader Mitch McConnell.
"He comprehends the needs of rural communities in states like mine - a product of his own rural upbringing," he said.
However, Senator Blumenthal alleged that Mr Pai has taken one step after another that are contrary to the public interest.
"He has launched an attack on net neutrality, and is working adamantly toward undoing the open internet order," the lawmaker charged.
"Pai forcefully advocated in support of efforts to rescind the FCC's broadband privacy rules - a blatant attack on consumer privacy rights, all the more striking in light of recent concerns about privacy," he said.
"Signing up for the internet should not mean that you have to sign away your rights to privacy. Chairman Pai has raised severe doubts about his commitment to the average American consumer," Senator Blumenthal said.
Soon after becoming the president, Donald Trump designated Mr Pai as acting Chairman of Federal Communications.
He had previously served as Commissioner at FCC. Appointed by his predecessor Barack Obama, Ajit Pai was confirmed unanimously by the Senate in May 2012.
Before joining FCC, Mr Pai was a Partner at Jenner & Block, LLP from 2011 until 2012, and Deputy General Counsel, Associate General Counsel, and Special Advisor to the General Counsel at the FCC from 2007 until 2011.
The son of immigrants from India, Mr Pai grew up in Parsons, Kansas.
He graduated with honors from Harvard University in 1994 and from the University of Chicago Law School in 1997, where he was an editor of the University of Chicago Law Review and won the Thomas R Mulroy Prize.
In 2010, Mr Pai was one of 55 individuals nationwide chosen for the 2011 Marshall Memorial Fellowship, a leadership development initiative of the German Marshall Fund of the United States.