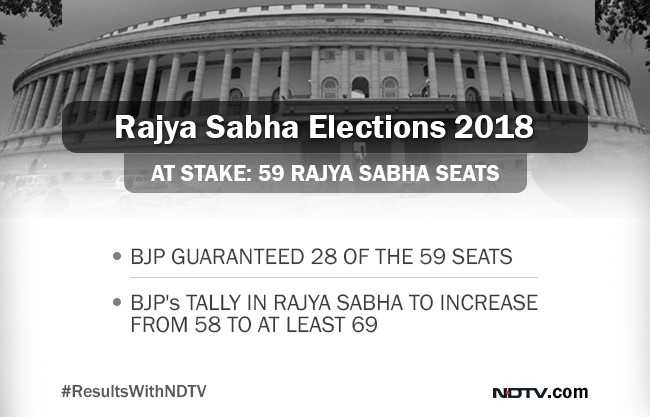 New Delhi:
Here is the state-wise list of
Rajya Sabha elections today
. Contests will be held in Uttar Pradesh, West Bengal, Karnataka, Jharkhand, Chhattisgarh, Kerala and Telangana. What's at stake: 59 Rajya Sabha seats. The BJP is guaranteed 28 of those. So its
total members in the Upper House
will increase from 58 to at least 69.
Uttar Pradesh
10 seats with contest
BJP (8): Arun Jaitley, Ashok Bajpai, Vijaya Pal Singh Tomar, Sakal Deep Rajbhar, Kanta Kardam, Anil Jain, Harnath Singh Yadav, GVL Narsimha Rao
SP (1): Jaya Bachhan
BSP: Bhim Rao Ambedkar
One Independent supported by BJP - Anil Agarwal
BJP+ have 324 seats
Votes needed: 37
SP: 47
BSP: 19
Congress: 7 (pledged to supporting BSP)
Tough fight for the 10th seat between Mayawati and BJP's ninth candidate (8 of its candidates are guaranteed to win)
Kerala
1 seat with contest
LDF (Left-led coalition): MP Veerendra Kumar
UDF (Congress-led coalition): Babu Prasad
Votes needed: 71
CPM: 90
So Veerendra Kumar will win
West Bengal
5 seats with contest
TMC (4) - Nadimul Haq, Subhashish Chakraborty, Abir Biswas and Santunu Sen
Congress: Abhishek Manu Singhvi
CPM: Rabin Deb
50 votes needed
TMC has 213 votes, can send 4
Congress: 42 (needs 13 surplus votes of TMC)
CPM: 26
Token fight by the CPM. 4 TMC and 1 Congress to be elected
Telangana
3 seats with contest
TRS (3): J Santosh Kumar, B Lingiah Yadav and B Prakash Mudiraj
Congress - Balram Naik
MLAs required: 30
TRS: 91 (so all 3 candidates likely to be elected)
Congress: 12
Jharkhand
2 seats with contest
BJP - Sameer Urnav, Pradeep Kumar Santhalia
Congress - Dheeraj Sahu
Votes needed: 28
BJP: 43 + AJSU 4
JMM: 19
Congress: 7
JVM(P): 2
BSP, MCC, CPI ML have 1 each
Independents 3
Andhra Pradesh
3 seats: No contest
2 TDP - C M Ramesh and K Ravindra Kumar
1 YSRC - V Prabhakar Reddy
Karnataka
4 seats with contest
Congress has 3 candidates - L Hanumanthiah, Naseer Hussain and G C Chandrashekhar
BJP - Rajeev Chandrashekhar
JD(S) - B M Farooq numbers 224
Votes required 44
Congress: 132 (including independents and 7 JDS rebels) - likely to be able to elect all 3 candidates
BJP: 46 - can elect its candidate
JD(S) has 30
Chhattisgarh
1 seat: contest between BJP - Saroj Pande and Congress - Lekhram Sahu
Total MLAs: 90
Votes needed 46
BJP has 49
Congress has 39
BSP 1 and Independent1
Madhya Pradesh
5 seats: no contest
BJP - 4 candidates - Thaverchand Gehlot, Dharmendra Pradahan, Ajay Pratap Singh, Kailash Soni
Congress - Rajmani Patel
Bihar
6 seats: No contest
2 JD(U) - Vashishta Narayan Singh and Mahendra Prasad
1 BJP - Union minister Ravi Shankar Prasad
2 RJD - Manoj Jha and Ashfaq Karim
1 Congress - Akhilesh Prasad Singh
Gujarat
4 Seats: No contest
BJP: 2 Purshottam Rupala and Mansukh Bhai Mandviya
Congress: 2 Ami Yagyanik and Naran Rathwa
Haryana
1 Seat: No contest
BJP - Lt General D P Vatsa (Retired)
Himachal Pradesh
1 Seat: No contest
BJP - union minister J P Nadda
Maharashtra
6 seats: No contest
BJP has 3 candidates: Naryan Rane, Prakash Javdekar and V Murlidharan
Congress 1: Kumar Ketkar
NCP 1: Vandana Chavhan
Shiv Sena: Anil Desai
Uttarakhand
1 seat: No contest
BJP - Anil Baluni
Odisha
3 seats: No contest
BJD (3): Prashant Nanda, Soumya Ranjan Patnaik and Achuyta Samanta
Rajasthan
3 seats: No contest
BJP (3): Bhupendra Yadav, Dr Kirodi Lal Meena and Madan Lal Saini