Highlights
Court pulled Haryana government over violence after Ram Rahim verdict
"You let the situation escalate," court said; 36 dead, over 250 injured
Chief Minister Khattar has acknowledged that there were gaps
Chandigarh:
Prime Minister Narendra Modi was not spared as a furious court on Saturday reprimanded Haryana and the central governments over the deadly rioting by self-styled godman
Gurmeet Ram Rahim
's followers after his conviction for rape. "He is the Prime Minister of not the BJP but of India," said the Punjab and Haryana High Court.
The court was responding to Additional Solicitor General Satya Pal Jain, who is representing the centre, saying that Friday's violence was a matter of the state. "Is Haryana not a part of India? Why are Punjab and Haryana treated like step children?" the court questioned.
Earlier, the
ML Khattar government in Haryana
confronted sharp words as the court said: "You let a city like Panchkula burn for political motives."
After Ram Rahim's conviction, thousands of his supporters massed near a court in Panchkula went berserk, burning cars, damaging property and targeting residents. The violence spread to other towns in Haryana and parts of Punjab.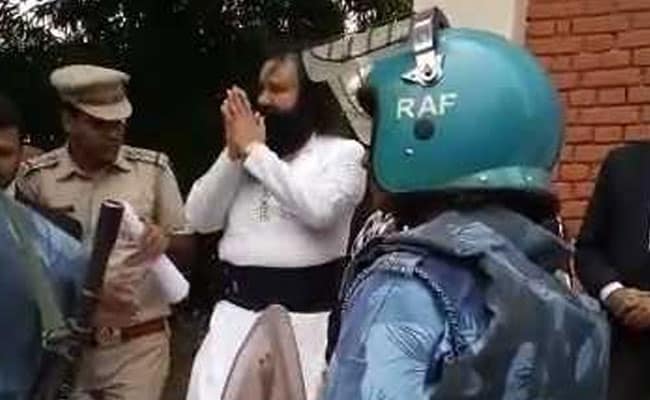 "You let the situation escalate. You surrendered to the situation," said court, admonishing the state government over a Panchkula police officer being sacked this morning. "You are trying to crucify a small DCP of Panchkula what about those political masters who have been giving wrong directions?" the judges said to the Haryana government.
Nearly three hours of arson and vandalism left Panchkula, always seen as a peaceful second option to adjoining Chandigarh, badly scarred.
The Haryana government has been criticised for allowing at least 1.5 lakh followers of
Dera Sacha Sauda
, the sect headed by Ram Rahim, to gather at Panchkula for the verdict, despite a ban on large gatherings.
It also exposed the BJP to accusations that it had been soft on the Dera because, as CPM's Sitaram Yechury put it, the government "is in cahoots" with the sect. Dera chief Ram Rahim has endorsed the BJP for both the general election and the state elections in Haryana and Punjab.
The court also asked how many cars were allowed into Panchkula on Friday afternoon when Ram Rahim arrived from Sirsa - the Dera headquarters - in a large convoy for the court verdict.
Chief Minister
ML Khattar had acknowledged yesterday that there were lapses
. The "lapses have been identified and we are taking appropriate steps," he said on Friday night, adding: "This should not have happened."
But in another statement, he also appeared to shield Ram Rahim's followers as he said criminals had infiltrated the crowd of Dera Sacha Sauda devotees.
The comments were not missed by the court, which said: "Your Chief Minister said miscreants got mixed up with Dera people, giving the impression that they didn't do anything, you're still supporting them, you are the ones who made this happen."