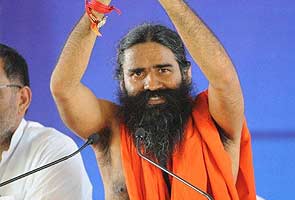 New Delhi:
After three days of fasting at the Ramlila Maidan in New Delhi, yoga guru Baba Ramdev has said he will announce the future strategy of his agitation against black money today. The yoga guru was to come up with his plans for the next phase of his agitation last evening, but delayed it by a day saying, "There will be an announcement on the big revolution to be staged in the country. We are waiting (for government response) till the evening. Many things will happen on Sunday not only in Ramlila Maidan here but across the country."
Baba Ramdev said the agitation will move in a "new direction" with the youth joining his movement. He said he will not stop the agitation till the central government responds to his demands, but will change his methods. Former Army Chief VK Singh, who spoke at Team Anna's indefinite fast before ending it, will join the yoga guru at the protest venue today, an aide of Baba Ramdev aide announced at the venue. It is, however, not specified whether Baba Ramdev's fast was also being extended.
Baba Ramdev had issued a three-day ultimatum, which ended last evening, to the government to address the issues raised by him when he launched his three-day fast on Thursday at the Ramlila Maidan.
"We will wait till evening (to hear from the government on our demands). Our three day deadline ends then. After that period is over, a roar will arise from this very Ramlila Maidan. We have not been taking names. But after then, we will take names who were in fault in this looting of country's wealth," he had said addressing the crowd, whose count had come down to a third of what it was on the first day of the fast.
He had also said India's standing in the world will increase if an honest person hoists the flag on Independence Day. "If a person with clean hands hoists the tricolour, it will raise the country' prestige. But, if it is hoisted by some dishonest person, then it will be disgraceful. How can it be, that you have a tricolour in your hands and you do not have the tricolour in your heart," he had said.
Baba Ramdev had earlier said that Prime Minister Manmohan Singh should show "political honesty and political will" on the issue of black money and tackling corruption. He had also said that he will not leave the protest venue without a "big decision" from government on steps to bring back black money and enactment of a strong Lokpal law.
"Only after a big decision from the government, we will leave Ramlila Maidan," he had said.
Meanwhile, Baba Ramdev held consultations with his close aides on the next phase of agitation. The yoga guru said, "Some have given the support letters, I would urge them not to just give in writing but also to air views in public. Then there would be more pressure on government and they would be forced."
Baba Ramdev also said, "Even if the government does not do anything, then the government will have to give answers to people. If the whole of India wants it, then why does not the government act? These are not imaginative or impossible demands. These are in public interest and then what is the problem?"
(With PTI inputs)