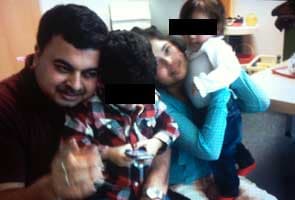 New Delhi:
The Indian government will today talk to the parents of two young children whose custody has turned into a diplomatic stress-point between Norway and India. The Indian ambassador in Oslo will ask Sagarika and Anurup Bhattacharya whether they want their children to return to India, as they have demanded for months.
The children were placed with a foster family last May. Anurup's brother, Arunabhas Bhattacharya, a dentist, had volunteered to be their custodian if they were allowed by Norway to return to India. For weeks, he met with Abhigyan (3) and Aishwarya (1) with Child Welfare officials supervising those visits. They found him suitable as a guardian. But government sources now say that Arunabhas has expressed reluctance to be the custodian of the children.
Anurup, however, said that he did not mention anything to Norwegian authorities about his brother refusing guardianship. "My brother left his career to be in Norway, he has been in Norway for last three months. He has compromised all this for the kids, why should he back out? He also asked many questions about safety of kids back in India. This has been falsely interpreted as he is unwilling to take responsibility," he told NDTV.
Sources say that the Indian government feels it is better for the children to come back but the uncle's unwillingness to be their guardian is bound to affect the case as he was positioned as the solution to this custody row.
The children were placed in foster care after child welfare officials in Norway decided that their parents were negligent. After the India government's intervention, the authorities had agreed to recommend to a court in Norway on March 23 that the children be placed in the custody of their uncle.
So, there will be no case if there is no guardian for the children, sources said. They added that India had submitted all the needed documents before Norway's Child Welfare Services before March 13.
For months, the Indian government has thrown its weight behind the Bhattacharyas, whose children were placed in foster care in Norway last May against their wishes. However, yesterday, reports emerged that after a fight with his wife, Anurup had told Norwegian officials that he would prefer for Abhigyan and Aishwarya to stay in Norway. Different newspapers quoted him as saying that he wanted to separate from his wife who allegedly attacked him over the weekend and has a record of being violent towards him. But today, Anurup said that his goal remains to bring back his children to their country. "I, Anurup Bhattacharya have not filed for separation or divorce... Whatever our personal differences, we are united in our sole principal aim, which is to get the children back to India," he clarified in a press release. That plan includes placing the children in the formal care of his brother.
Meanwhile, Anurup's mother-in-law, who stays in Kolkata, flatly denied the reports of a divorce. "These reports are completely false. I am not aware of any such reports. My daughter does not want a divorce. My son-in-law is not interested in filing a divorce case," Sagarika's mother, Shikha Chakraborty said.
The new developments have embarrassed the Indian government which had been pressuring Norway to send the children back with their parents. A series of Indian diplomats were sent to Oslo to talk to authorities there to plead the Bhattacharyas' case. "The government has tried its best to bring the children home so that they have a future in the country. But a new situation has developed.... we cannot interfere. The visit of a Joint Secretary (to Norway) has been postponed," Minister of State for External Affairs, Preneet Kaur, told reporters today.
If Sagarika and Anurup say that they are now involved in a domestic dispute, the Indian government will step out of the picture and treat their children's custody case as a family matter.
Anurup's visa expires this month. He was posted to Norway on an official assignment. The family insisted that Child Welfare Service officials who had placed the children in foster care had mistaken cultural differences for poor parenting. So Sagarika argued that she was being penalised for feeding her young daughter by hand, or for letting her son sleep in his parents' bed.