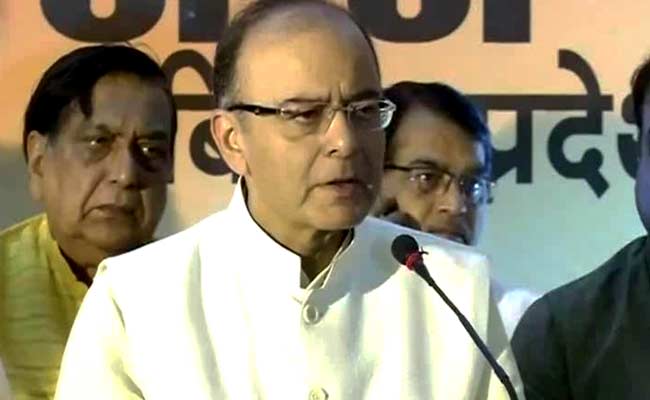 New Delhi:
The steady stream of writers returning Sahitya Akademi awards has been termed as a "manufactured paper rebellion" against the government by finance minister Arun Jaitley.
In a Facebook post titled "A manufactured revolt - Politics by other means," the minister said, "The death by lynching of a member of minority community at Dadri was extremely unfortunate and condemnable. No right thinking person can ever rationalise and condone such an action. Such incidents bring a bad name to the country."
A manufactured revolt - Politics by other means:The death by lynching of a member of minority community at Dadri was...

Posted by Arun Jaitley on Wednesday, October 14, 2015
Subsequent to this, a series of writers have returned awards conferred on them by the Sahitya Akademi on grounds that an atmosphere of intolerance has been created under Prime Minister Narendra Modi.
"Is this protest real or a manufactured one? Is this not a case of ideological intolerance?" Mr Jaitley asked.
The minister said that a large number of writers with left or Nehruvian leanings had been recognised by the Government in the past.
"Some of them may have been entitled to this recognition. I am neither questioning their academic merits nor their right to have political prejudices. Many of them have spoken out against the present Prime Minister even when he was Chief Minister of Gujarat," he said.
Mr Jaitley also claimed that "those who had enjoyed the patronage under the earlier establishment have obviously been uncomfortable with the present Government."
"The new strategy of anti-Modi, anti-BJP sections appears to be to resort to 'politics by other means'. The easiest way is to manufacture a crisis and subsequently manufacture a paper rebellion against the Government in the wake of a manufactured crisis," he wrote.
Mr Jaitley said there is no atmosphere of intolerance in the country. "The manufactured revolt is a case of an ideological intolerance towards the BJP."
The finance minister recalled that when the National Democratic Alliance government came to power there were reports of series of attacks against the Christian community, including on Churches.
"It was alleged that the minority communities in the country are feeling unsafe. Each one of those 'attacks' was investigated and most of them were found to be incidents of petty crimes such as theft or throwing bottles to break a windowpane. None of the attacks in and around Delhi could be attributed to religion or politics," he said.