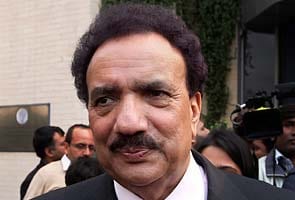 New Delhi:
After a series of controversial remarks by Pakistani minister Rehman Malik outraged India, the main opposition party, the BJP, has asked the government to explain why he was invited to New Delhi.
"What Rehman Malik said was unwarranted, unprovoked. We strongly condemn it. I want to ask the Home Minister why Malik was allowed to come if his visit to India was with an agenda. Why didn't the government respond to all this strongly?" asked the BJP's Ravi Shankar Prasad.
Home Minister Sushil Kumar Shinde offered some details of his counterpart's visit in the Rajya Sabha. He will share details later with the Lok Sabha.
Mr Malik was in Delhi to introduce a new and easier visa process for cross-border travel. However, his trip was headlined by a series of contentious remarks including his allegation that an intelligence agency may have been involved in India's worst-ever terror attack in 2008, in which 166 people were killed in Mumbai by ten Pakistani terrorists.
Yesterday, the Pakistani minister suggested that Abu Jundal, who has confessed to serving as a handler for the terrorists who ravaged Mumbai, was appointed by an Indian intelligence agency, and recruited other Indians, before turning rogue. Jundal, who belongs to Maharashtra, was deported from Saudi Arabia to Delhi earlier this year despite strident opposition by Pakistan. (
Read: From Pak Minister, a new controversy over 26/11 handler
)
Mr Malik, during his visit to India, also appeared to compare the Mumbai attacks to the demolition of the Babri Masjid in Ayodhya in 1992, though he later told NDTV his remarks had been misunderstood.
He also said that though Pakistan has "no love lost" for Hafiz Saeed, India has failed to furnish evidence that Saeed masterminded the Mumbai attacks. The US in April announced a 10 million dollar bounty for Saeed, though he moves freely in Pakistan, often delivering hate speeches against India. (
Watch
)
Mr Shinde said that the Pakistani interior minister appeared "misinformed" about the reasons for Saeed's arrest - he was arrested thrice and released on court orders because of lack of evidence, Mr Malik said in Delhi. "Documents show Saeed was arrested for reasons other than Mumbai attacks, while Rehman Malik said he was detained for the 2008 incident," India's Home Minister said. (
Read: Pakistan misled India on Hafiz Saeed's arrest, says Sushil Kumar Shinde
)