Barabanki/Etawah:
A bumper crop would normally bring cheer but farmers in Uttar Pradesh, India's biggest potato-growing state, are far from happy. The new crop has arrived, but the state's 1,825 cold storages are still flush with last year's produce. It's a desperate situation for small and marginal farmers who are staring at losses, caught between high input costs and low returns they get at local markets.
At Barabanki's Mohamadabad village, about 45 kilometres from state capital Lucknow, Krishan Kumar Verma, a marginal farmer, says it takes him Rs 8 to produce a kilo of potatoes. "This includes the costs of seeds, labour, sowing, irrigation, harvesting, transportation and storage," he says. But at the vegetable
mandi
in Barabanki town, the older crop is going for at Rs 1-2 per kilo. The newly-reaped variety is selling at Rs 3-5 a kilo, says Irshad Ahmed, a potato trader.
With demand falling for last year's crop, farmers are unwilling to take out their produce stacked in cold storages. Lifting it would mean paying the storage rent, normally Rs 2.50 for a 50-kilo sack, compounding their losses. To make way for the fresh produce, a cold storage is Etawah district has thrown away nearly a quarter of the potatoes it stored.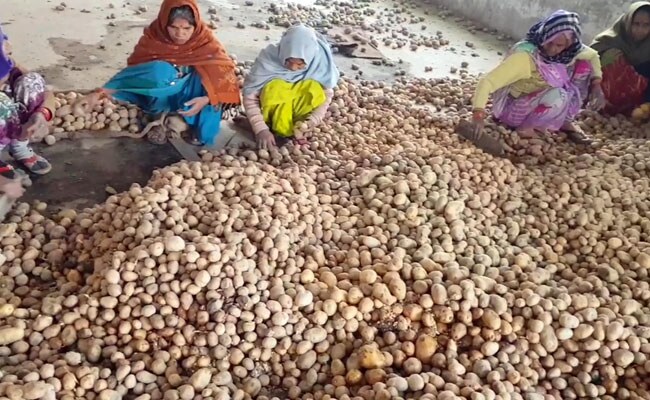 Last year, Chandra Shekhar, reaped 24 quintals or 2400 kilograms of potatoes from his farm in Kannauj district. His input cost was Rs 5 per kilo. That's more that the Uttar Pradesh government's announced Minimum Support Price (MSP) for 2017 -- Rs 4.87 a kilogram. "Only if the government rate is Rs 10 rupee per kilo, we will make profits," he says.
Potato production in the state is likely to go up from 155 lakh metric tonnes in 2016-17 to 160 lakh tonnes in 2017-18.
Last Saturday, potatoes were found dumped on prominent roads across Lucknow, including outside the state assembly and the road that leads to Chief Minister Yogi Adityanath's official residence. Those who did this are yet to be identified but the act reflects the desperation of farmers in a state that produces 35 per cent of potatoes in India.