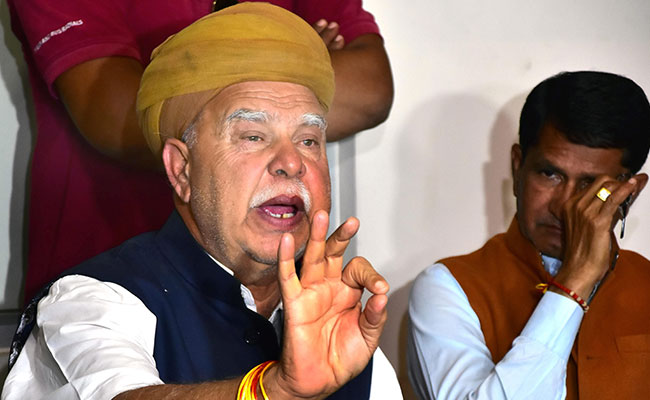 Jaipur:
From a group formed in 2006 mainly to "fight for the rights of Rajputs" to leading violent protests against Sanjay Leela Bhansali's period film "
Padmaavat
", the Karni Sena has come a long way. Founded by Lokendra Singh Kalvi, the group was self-appointed defender of Rajput pride and ethos, with a mission to secure reservation for the community in government jobs and colleges.
Lokendra Singh Kalvi's father Kalyan Singh Kalvi was a minister, first in the BJP government of Bhairon Singh Shekhawat in Rajasthan in the late seventies and then at the Centre during the brief period that Chandra Shekhar was prime minister.
In 1999, as the BJP gave reservation to Jats -- a community the Rajputs perceive as traditional rivals -- Lokendra Singh Kalvi quit the party to start the Social Justice Forum. He had earlier contested the Lok Sabha elections twice -- in 1993 and 1998 -- on a BJP ticket and lost. Afteryears in the political wilderness, he returned to the BJP in 2014, just before the party led by Narendra Modi won the election.
There's a method to the protest by Karni Sena against "
Padmaavat
", a period film that the group claims distorts Rajput history and belittles the 14th century queen Padmini.
It's not the first time a film has been on their hit list. In 2008, the target was "
Jodhaa Akbar
", directed by Ashutosh Gowarikar. The Karni Sena's allegation then was the same -- "distortion of historical facts". Despite a wave of protests by the group, the Vasundhara Raje government did not ban the film. But many theatres in the state did not screen the movie, fearing trouble. Hardly any action was taken against the group, as is the case now. The reason seems rooted in electoral arithmetic.
Rajputs, who have traditionally been BJP supporters, make up nearly 12 per cent of voters in Rajasthan and can be the clincher in 50 of the 200 seats. And in an election year, no political party seems keen on taking on the Karni Sena. Not even the Congress that is seeking to wrest power in the state.
A year ago, its supporters vandalised the sets of the film during its shooting in Jaipur and assaulted the crew. The Karni Sena had then blamed Sanjay Leela Bhansali. It's blaming the filmmaker even now, after a school bus was stoned on the outskirts of Delhi and little children sat inside crouching in fear on their way back home.