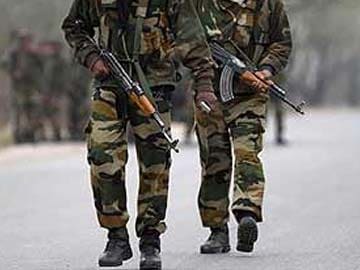 New Delhi:
If the Congress-led UPA government had thought it would be able to woo the large fraternity of soldiers with the 'One Rank, One Pension' sop, announced in the interim budget by Finance Minister P Chidambaram, it is perhaps mistaken because a great deal of resentment still prevails among serving officers of the armed forces over a glaring disparity that the government has failed to remove since 2008.
The disparity concerns the status and pay scales of senior military officers in comparison to officers of other paramilitary and civilian organisations, clubbed under a category called 'Organised Group A Services'.
Till 2008, there was no problem in day-to-day functioning between the military and officers of these services. Now a dissonance has set in. In 2008, the sixth pay commission allowed Organised Group A Services Officers with 19 years of service to be treated equivalent to joint secretary-level IAS officers.
This ruling gave the Organised Group A Services Officers a head start over much senior military officers since the government determines seniority by grade pay. The new ruling allowed these officers to get a grade pay of Rs 12,000 in 19 years. In the military, the grade pay of Rs 12,000 is granted to major generals, who pick up the two-star rank after 29 years of service - a huge gap of a decade.
This has created huge functional problem of command and control in joint cadre or multi-cadre environment where military officers have to work with the officers of the Organised Group A Services. For instance, a Brigadier with 27-28 years of service working with civilian engineers in Kashmir, north-east or Rajasthan is considered junior to officers in the organisations who may have done just 20 years of service since their grade pay is higher than the Brigadier.
The civilians, now as much conscious of their rank and status as their military counterparts, have been refusing to obey orders from military officers senior to them in number of years of service but considered junior because of the lower grade pay.
All representations by the armed forces to the government since 2008 have fallen on deaf ears. Despite a united stand taken by the three service chiefs and the Prime Minister setting up a high-powered committee of secretaries, this issue remains unresolved.
And what is the logic of not granting what is called, in technical terms, 'non-functional upgrade' or NFU? Because the Centre says Defence Officers are not part of Organised Group A Service.
So what are they? Just 'Commissioned Officers'?
Senior army officers point out that they lose out on two counts. One, they don't get higher grade pay until much later, and two, they are now deemed junior to much younger officers. On the contrary, granting NFU to defence services will remove the disparity and widespread resentment.
Why should Army officers get NFU? Because of the following reasons.
None of the Organised Groupp A Services face as much stagnation as Army officers because of its pyramidal structure. Almost 97 per cent of military officers retire at the levels below Joint Secretary.
Traditionally, since independence, there has been a broad parity between the Class 1 (or Group A) officers of Civil Services and the Defence Services officers which has been acknowledged by different pay commissions in their reports.
In such a case, the differential behaviour of the 6th Pay Commission not only disturbs the financial parity, it pushes down the military in status. In fact, now Sub Inspectors of CRPF or BSF or ITBP too have an edge over the military officers since they too will retire with the salary of Additional Secretary or Lieutenant General if they get promoted as Assistant Commandant or Deputy Superintendent of Police in eight years.
All this, say military officers, has added to the frustration, demoralization and increased disgruntlement among military officers.
Get Breaking news, live coverage, and Latest News from India and around the world on NDTV.com. Catch all the Live TV action on NDTV 24x7 and NDTV India. Like us on Facebook or follow us on Twitter and Instagram for latest news and live news updates.