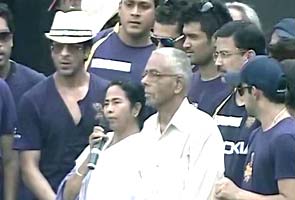 Kolkata:
After yesterday's celebrations at the Eden Gardens, West Bengal Governor MK Narayanan, is, in a way, having to eat his words. During the celebrations, the usually reticent governor seemed to have got quite carried away by the rousing reception that spectators gave the Kolkata Knight Riders (KKR) team and team co-owner Shah Rukh Khan.
The governor had lauded Chief Minister Mamata Banerjee saying 'true
poribortan
' (change) has now been ushered into West Bengal. "This is the true
poribortan
(change) promised by chief minister one year ago," Mr Narayanan had said.
But his comment was severely criticised by the Left, with CPM's Biman Bose asking how can a Governor associate himself with a political party's slogan.
Poribortan
was the Trinamool's slogan in the last Assembly elections by the help of which the party ended the 34-year-long Left rule in the state. This evening, when asked about it, the Governor said he had meant KKR's
poribortan
, not any governments.
"It (KKR team's victory) happened after they attempted the Indian Premier League four to five times. That means change and that is '
poribortan
'. I am not talking of the government," he clarified.
"It (KKR victory) is certainly a matter of change," he said, adding his comments had "nothing to do with any particular government."