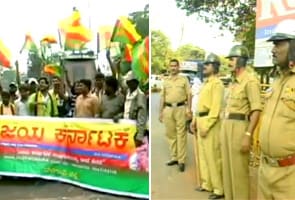 Belgaum, Mumbai, New Delhi:
The battle over Belgaum, a long bone of contention between Maharashtra and Karnataka, has heated up once again.
As the Centre submitted an affidavit in the Supreme Court stating that Belgaum cannot become a part of Maharashtra just because most people in the district speak Marathi, that language is not the only criteria that determines inclusion of any area in a state.
"This is unfair on Maharashtra. We have been fighting for 50 years now. States were created on linguistic grounds in the time of Pandit Nehru. Belgaum has 35,000 Marathi-speaking people. Now, what does the Centre want? That Marathi-speaking people of that area to become rebels?" asked Sanjay Raut, Shiv Sena Spokesperson.
The Centre's affidavit is an acute embarrassment for the state Congress government that had taken the case to the Supreme Court in the first place in 2004.
Belgaum, with an 80 per cent Marathi-speaking population, had wanted to be with Maharashtra when the states were carved out in the 1950s but was included in Karnataka. It's a dispute that was never quite resolved. But, today's development has come as a moment of celebration to Karnataka.
"The affidavit filed on behalf of the Centre justifies Karnataka's stand all through these years, stating that the border issue is a closed affair and all these places are inherent parts of Karnataka," said Suresh Kumar, Karnataka Law Minister.
The case is still being heard in the Supreme Court but given it is such an emotional border issue, every twist and turn will be closely watched.