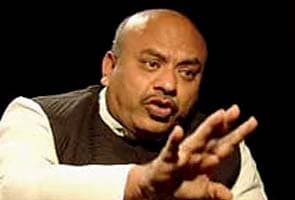 New Delhi:
He's that shadowy figure in the BJP that everyone knows is there. But he has only ever been discussed when some controversy has forced his name out. And then back to the shadows.
Sudhanshu Mittal is still most identified as one of Pramod Mahajan's close associates. A student and youth leader who met and befriended Mahajan in the 1980s and whose influence grew in direct proportion to Mahajan's meteoric rise in the BJP.
Professionally, he is a wealthy Delhi businessman, runs a flourishing tent business and wears that on his sleeve. He is often quoted as proudly proclaiming that he is a "tentwallah." But Mittal's yearning to be known as a politician and not a businessman and political aide comes through in every media interview. He even tried to become a Rajya Sabha MP and failed, thwarted in his two bids by party leaders.
Mittal is credited with playing a big role in the setting up of Pramod Mahajan's famous and impressive war room and communication centre at the late BJP leader's 7 Safdarjung Road residence. He is also believed to have been in charge of money matters. The less polite whispered "fixer."
Controversy dogged him even when Pramod Mahajan was alive. Mittal's name came up in a corporate deal in 2002. It was learnt that a relative of his owned one of three shell companies that were offered 1 crore Reliance Infocomm shares at Re 1 each. Amid hue and cry the three firms returned the shares as Mahajan did extensive damage-control. Sudhanshu Mittal went back to the shadows.
The plot went terribly wrong when Mahajan's soaring political career, and indeed his life, were abruptly cut short when his younger brother shot him in April 2006. Mahajan battled for life for days before succumbing in May, 2006.
Mittal remained loyal to Mahajan's family and was again in the spotlight when Pramod Mahajan's son Rahul and another close aide Bibek Moitra were found in a state of drug overdose. Moitra died. Mittal was mentioned in the Delhi Police chargesheet against Rahul Mahajan. Mittal stood by Rahul, who was brought back from the brink of death by doctors at Apollo hospital in Delhi.
But Mittal's political mentor was gone. He needed new political footing, found succor in another BJP leader, Rajnath Singh and quickly rose in importance again. There was much controversy in March last year, however, when Rajnath Singh appointed Mittal the party's co-convenor of North East Affairs. Senior BJP leader Arun Jaitly, who is known to be anti-Mittal, sulked publically.
Sudhanshu Mittal's link to the Commonwealth Games contract - the link that brought about Tuesday's raids - is through his nephew Vinay Mittal, whose Deepali Design and Exhibits won one of the most lucrative deals, worth over Rs 200 crore in a consortium with a foreign partner.
The overlays deals amounting to about Rs 650 crore were awarded to four contractors including Mittal's firm.