Highlights
Volcano located in Andaman Islands first erupted over 150 years ago
Red lava, steam, spewed from volcano in January
Coast Guard filmed the eruption
Port Blair:
When
India's only active volcano, located in the Andaman Islands
, erupted in January, it made headlines. Now, the Coast Guard has presented footage of steam, smoke and some red lava that spewed from the volcano at Barren Island, some 140 kilometres north east of Port Blair.
The video was recorded on a reconnaissance mission to monitor the eruption by the Indian Coast Guard, using a night vision device, which does not have the ability to record - so a mobile phone was placed next to it, with its camera capturing the footage. True Indian
jugaad
.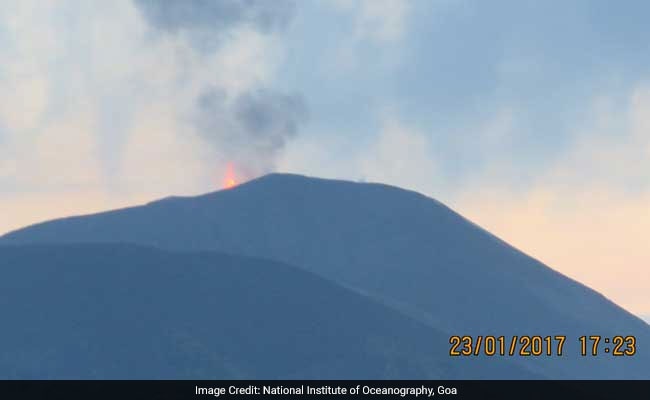 Barren Island is uninhabited, but it has forests and wildlife. The volcano last erupted nearly a decade ago. Its first recorded eruption dates back to 1787.
The last known activity on the volcano was recorded about a decade ago, but the last massive large scale eruption occurred some 150 years ago.
A team on a research ship that noticed the eruption in January did not land on Barren Island because it appeared too dangerous. "During the daytime, only ash clouds were observed. However after sundown, the team observed red lava fountains spewing from the crater into the atmosphere and hot lava flows streaming down the slopes of the volcano," said a statement from the National Institute of Oceanography.