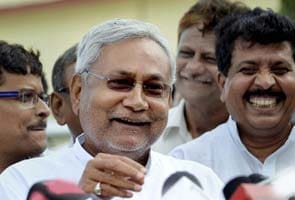 Patna:
The Bihar BJP says it is waiting for Nitish Kumar to "open his mouth."
A partner in Mr Kumar's government for the last eight years, the BJP is now missing no chance to target the ruling Janata Dal United or JDU and taking on Mr Kumar on any comment he makes.
The Chief Minister had recently said that "If I decide to reveal what I know, a lot of people will be in trouble."
The BJP's Sushil Kumar Modi, who was Mr Kumar's deputy till the chief minister dismissed all the 11 BJP ministers earlier this month, dared him to speak up saying, "We're waiting for him to open his mouth then we will react."
But Mr Modi, when asked to react to another senior BJP leader Shahnawaz Hussain's statement that Mr Kumar never allowed BJP ministers to function independently, refused to comment saying he will speak on these issues at an appropriate time.
On June 16, the BJP and the JDU had ended their 17-year-old alliance. Mr Kumar said the split was impelled by the BJP's decision to promote Narendra Modi by placing him in charge of its campaign committee for next year's general elections.
The JDU says Mr Modi, the chief minister of Gujarat, is a divisive leader who did not do enough to stop hundreds of Muslims from being killed on his watch in 2002.
Mr Kumar has said that Mr Modi's new role suggests he is being primed for his party's prime ministerial nomination, which is unacceptable to the JDU.