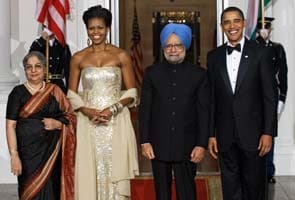 Washington:
Stories from the Panchatantra and a collection of Gandhian era pictures, besides a burgundy rug and a Pashmina shawl were among the items gifted by Prime Minister Manmohan Singh to the US First Couple during his State Visit to Washington in 2009.
The Federal Register reported that the most expensive gifts from the Prime Minister to President Barack Obama was a collection of books with an estimated value of USD 3,572.
The books included 'Stories from the Panchatantra', 'Ancient Tales of Wit and Wisdom', 'The Puffin Treasury of Modern Indian Stories', 'A History of Ancient and Early Medieval India' and 'The Gandhi Collection: History in the Making: The Visual Archives of Kulwant Roy'.
Singh presented to Obama a burgundy rug with a foliate motif worth USD 1,200, while to Michelle he gifted a beige Pashmina shawl worth USD 666 made by the Kashmir Loom Company.
All the presents were sent to the National Archives as American law bars any US government official from receiving a present from a foreign government.
The Federal Register said Obama and others accepted the gifts because "non-acceptance would cause embarrassment to the donor and the US government".
According to the Federal Register, Gursharan Kaur, wife of the Prime Minister, presented to the First Lady Michelle two silver enamel sculptures of a kingfisher and a parrot, which has an estimated value of USD 1,400.
In 2009, the Prime Minister also presented to Vice President Joe Biden, the statue of a jungle fowl rooster on a wooden base, having an estimated cost of USD 550.
However, Biden was permitted to retain for official use only the other gift he received from the Prime Minister during the State visit.
This was 45 inch by 67 inch multicoloured rug with a repeating floral medallion design on an ivory field with three borders, having an estimated cost of USD 440.
Admiral Mike Mullen, Chairman of the Joint Chiefs of Staff, also received gifts from the then Indian Army Chief Deepak Kapoor in 2009, the Federal Register said.