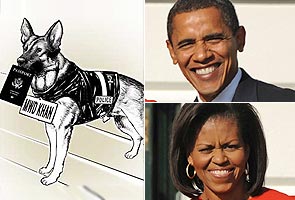 Mumbai:
The name's Khan, MWD Khan. Short and agile, he sauntered into Mumbai airport's international terminal around 12.15 pm on Tuesday.
This was minutes after it had disembarked from a US Air Force Hercules C130 transport plane.
Just for the record, MWD Khan is a sniffer dog attached to the US commando unit assigned to protect US President Barack Obama during his Mumbai visit.
The German Shepherd of Belgian lineage holds a US passport (set box), showing its name as MWD Khan. MWD is the acronym for 'Military Working Dog'.
"Khan strode out of the airport, accompanied by his trainer," said an eyewitness.
"The dog and its trainer seemed inseparable as they walked through the green channel of the arrival terminal." They quickly disappeared into a private vehicle to a secret destination in south Mumbai.
"The dog had a metal tag around its neck with the name MWD Khan embossed on it," said a police source. "It had a leather guard strapped to its mouth, just to prevent the canine from attacking bystanders and passers-by."
Sources said that the highly trained sniffer would spend the next few days close to where the US President will be housed. The dog enjoys all privileges that an army commando is entitled to.
The dog is trained to sniff deadly explosives generally used by terror groups like RDX, SEMTEX and C 4.
"Khan's job will be to sniff around for explosives in the hotel where the US President will put up," said a source. "The dog trainer is accompanied by experts from the (US) army's bomb disposal squad."
Meanwhile, around 40 scrappy commandos in civilian clothes, including three female commandos, also alighted from the C130 and were cleared after their travel documents were verified.
The air force C130 was also carrying a huge quantity of assorted weapons and ammunition required to protect the US President.
"The quantity is huge. You can almost arm an army brigade with these weapons," said a source.
The US government is not taking any chances in the wake of fresh intelligence inputs that operatives of the terror outfit, Al-Qaida, could strike during Obama's visit to India. Sources said a nation wide alert had been sounded.
Intelligence reports indicate that the highly trained Al-Qaida operatives are capable of carrying out suicide attacks from the land and sea.
The terror outfit has also managed to procure some deadly surface-to-surface missiles to carry out long-distance strikes.
The seafront around the Gateway of India has been sanitised between November 4 and 8. The airspace has been declared a no-fly zone to prevent any aerial attack.
Police sources said that officials of the US Secret Services were already running a background check in all hotels across the city. Local sniffer dogs are being used to carry out the task, they said.