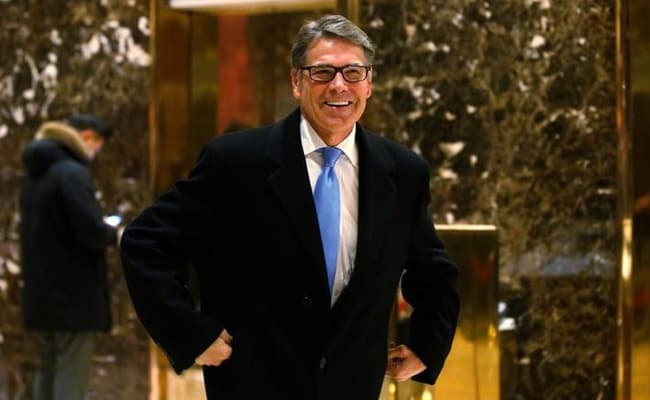 Washington:
The US must acquire the latest technology and efficient methods to produce nuclear power to be a major player in the sector and assure countries like India that America is committed to bilateral atomic energy cooperation, Energy Secretary Rick Perry has said.
Mr Perry, who visited India in April this year as part of Donald Trump administration's move to enhance bilateral energy cooperation, told reporters during a media round table yesterday that he had "very good conversations" with Petroleum and Natural Gas Minister Dharmendra Pradhan on nuclear energy, clean coal and carbon capture utilisation.
Appreciating India's effort to partner with the US on nuclear power, Mr Perry said the US needs to take steps to have the latest technology and efficient methods to produce nuclear power otherwise it will be conveyed to countries like India and Saudi Arabia that America is not committed to nuclear power.
"If we don't keep our ability to be a player in a technological sense, whether it's building reactors as Westinghouse Electric Co does or whether it's the pipeline of young people moving into nuclear energy because they see a future there. If we were to lose our ability to be a player in the nuclear power business, it's going to have a long-term impact," he said.
It sends a short-term message to the Saudi Arabia, with which the US is currently in the process of negotiating a 123 Agreement, he said.
"It sends a short-term message to the Indian leadership that America is really not committed to nuclear power, so why should we go into a partnership with them and it appears that they're not even going to support their industry in the United States," Mr Perry explained.
So, this is a really important conversation to have, he noted.
"If we're going to go sit down with India, if we're going to sit down with Saudi Arabia, we're going to have conversations about nuclear power going forward, yet we let our industry collapse for whatever reason, then it puts the future of nuclear power in the US in jeopardy," Mr Perry said in response to a question.
With cheap natural gas and renewable solar and wind energy increasingly available, nuclear power plants across the US are being closed with years of licensed operation unused.
No new nuclear power stations have come on line in the past two decades.
During the India visit, Mr Perry had said that Westinghouse Electric Co is emerging out of bankruptcy and is capable of delivering the planned six nuclear reactors to India on time.
Civil nuclear cooperation has been a cornerstone of US-India relations. The 2016 deal, under which Westinghouse was to build six AP1000 reactors in Andhra Pradesh, was concluded after more than a decade of diplomatic efforts.
But it was in limbo after Westinghouse in March last year filed for bankruptcy following an estimated USD 13 billion of cost overruns at two US projects.
India has one of the world's oldest nuclear power programmes, having built Asia's first research reactor in 1954.
But electricity generated from nuclear remains a small part of the energy basket. The country has 22 reactors providing up 2.1 per cent of the country's overall capacity, compared with 17.7 per cent from renewable sources and 58.7 per cent from coal.