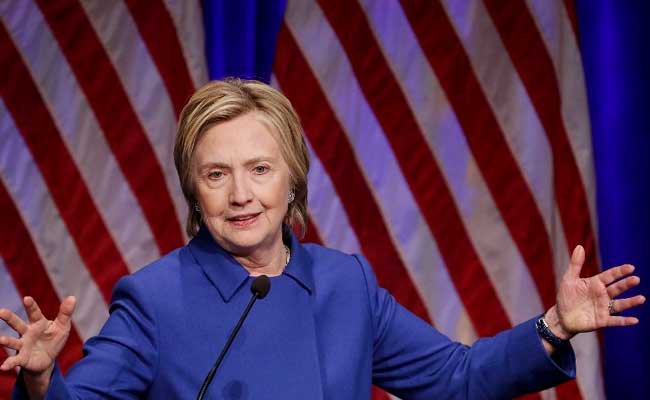 Mumbai:
Describing the 2016 presidential polls in the US as the "first reality TV elections", former US Secretary of State Hillary Clinton has alleged Russian interference in the American elections was "unprecedented and more than alarming".
Ms Clinton, who was the Democratic Party candidate for the presidential polls, also said that America did not deserve to have Donald Trump as the President.
"Russian interference in the American elections was unprecedented and more than alarming. It represents clear danger to democracy everywhere. It was not just intended to damage me and my electoral prospects. They were intended to fan flames of division in our society," she alleged.
"(Russian President) Vladimir Putin is not the most feminist of leaders that I have ever met," she said in her keynote address at the conclusion of the India Today Conclave on Saturday.
"There is distrust, divisiveness in US about the press, judiciary, Congress, politics, which constitute foundations of the democracy," she said.
"In USA, people are mounting massive resistance to protect democratic institutions. People are coming together and standing up for democracy," she said, adding that more such people are needed.
"Anti-immigrant feeling became virulent because of Trump's rhetoric," she alleged.
She said it was shameful that the US was the only country which was now not in the Paris agreement on climate change.
"I want to thank India's leadership and commitment to bring other countries to the recognition of threat posed by climate change," she said.
To a question on whether America deserved Donald Trump as its president, she quipped, "No...He ran a TV reality campaign. It means a person who is most outrageous and says incorrect things, but gets away with it."
Talking about India's neighbours, she hit out at Pakistan for "sheltering terrorists", while saying Afghanistan is an "ongoing disappointment".
"We tried different things, but when you have safe haven and not consistent support to weed out terrorists, it is difficult to find a solution."
She revealed that she had recommended to former US President Barack Obama to conduct a raid on Osama Bin Laden.
When asked whether she would contest the presidential polls again, she replied in the negative. "I will be delighted that if in 2020, we can all take a deep breath and say we are back on the right track."
"If you are interested in American politics, stay tuned. It's going to be interesting in next the few years," she concluded.