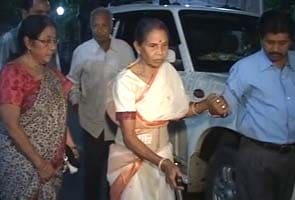 Kolkata:
The grandfather of one-year-old Indrashish Saha - who has been taken into custody by the child welfare services in New Jersey in USA - today met President Pranab Mukherjee who has assured all help in the matter.
"The president is aware about the case and he has assured me that he will take up the matter with ministers concerned, including the prime minister (Manmohan Singh). He has assured me all help," Nirmal Krishna Saha said after the meeting with Mr Mukherjee at the Raj Bhavan.
"We do not want my grandson to be with the US authorities. We are ready and willing to take his custody and want the Indian government to help us in getting Indrashish's custody," added Mr Saha.
Mr Saha said a New Jersey court, while hearing the matter on Friday, has asked for the passport of the baby to be deposited before it.
The grandparent also accused the US authorities of mishandling the baby, who is in their custody since September 6.
Indrashish was taken into protective custody by US authorities after the child suffered a head injury on August 9. The access to the child by his parents - a US-based Indian couple from West Bengal - has also been limited.
Debashish Saha, the father of the child, has also sought the help of the Indian and the West Bengal governments to fight the legal battle and to send his son back to the country. External Affairs Minister SM Krishna has sought a report from the Indian mission.
"The child protection team from the division of youth and family services, New Jersey, told us that they will look into how the child fell from the bed. And till they ascertain the reason, they would keep the child in their custody," Debashish Saha had said.
Congress general secretary Omprakash Mishra, who had written to Mr Krishna earlier seeking his intervention, said local people in the US have been helping Debashish Saha financially for his legal battle.
"The president has assured all help and said he will take up the matter with the prime minister. We are also trying to explore ways to provide financial help to the family because legal expenses in the US are very high," said Mr Mishra who accompanied Nirmal Krishna Saha in his meeting with the president.