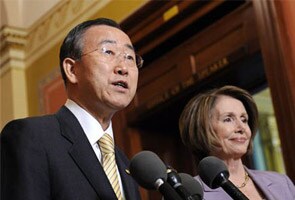 New Delhi:
Did United Nations (UN) Secretary General Ban Ki Moon issue a controversial statement on the situation in Jammu and Kashmir? An annoyed Ministry of External Affairs had asked the UN to clarify, and the UN in turn has denied any such remarks.
But Ban Ki Moon's spokesperson Farhan Haq says the comments were made in response to questions from journalists.
An email by Mr Haq reads:
"In relation to recent developments in Indian-administered Kashmir, the Secretary-General is concerned over the prevailing security situation there...The Secretary General welcomes the recent resumption of Foreign Minister-level talks between India and Pakistan. He encourages both sides to rekindle the spirit of the composite dialogue... and to make renewed efforts to address outstanding issues, including on Jammu and Kashmir..."