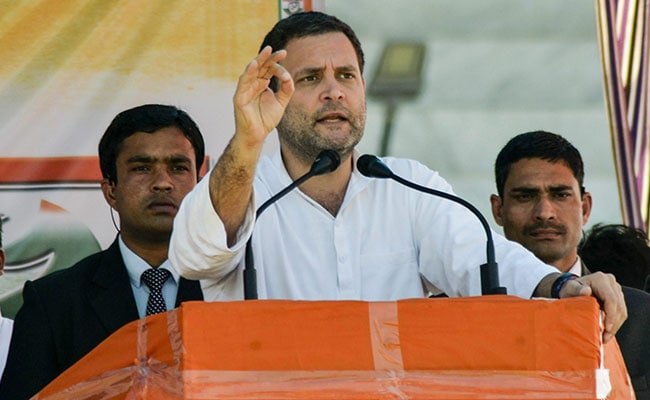 New Delhi:
As the government scrambled to trace celebrity jeweller Nirav Modi and his family, the Congress amped up its attack on the BJP government for letting the diamond billionaire accused of massive Punjab National Bank fraud slip out of the country.
Again, said the Congress.
Rahul Gandhi, who is campaigning in Tripura, had set the agenda for his party early in the day with a tweet that targeted PM Modi for what he called was the "scamster's escape formula". At a media briefing later, Randeep Surjewala drove home the point.
"'Udaan' is the buzzword of Modi government," he said, playing on a government scheme for regional connectivity backed by PM Modi. In hindi, the word means to fly.
"Every scamster can fleece and fly - unchecked and undetected,"" he said, referring to former IPL boss Lalit Modi and business tycoon Vijay Mallya flying out the country just before the probe agencies decided to crack down on them.
It is a point that the Congress had alluded to yesterday too when Mr Surjewala asked if Nirav Modi had been tipped off to let him leave the country.
Nirav Modi and the others left India in the first week of January, long before the CBI filed the case and later travelled to Davos too where he was seen in a group photo in Davos with Prime Minister Narendra Modi.
The agency put out a lookout notice against the four on February 3 or 4.
The Congress attempt to focus on the billionaire's exit from the country is also seen in context of the government's rebuttal to previous attempts to lay the blame for the scandal at the ruling BJP government's doors.
Mr Surjewala has called the Punjab National Bank fraud the biggest bank loot, claiming that it had got bigger over the last 24 hours to Rs 21,000 crores. The opposition party also kept up its attempt to link the scam to PM Modi, pulling out a video of a function where PM Modi had referred to Nirav Modi's uncle Mehul Choksi by name.
West Bengal Chief Minister Mamata Banerjee too tweeted a dig at the government. "Those who have Kisan Credit Cards and are entitled to loans are being denied loans. And yet some VIP bank customers are looting this country. The self-help groups, those who run small businesses, and other commoners, are deprived of loans. And yet, special people are being given thousands of crores of rupees. Why this fraud? Why this fraud?" she said.