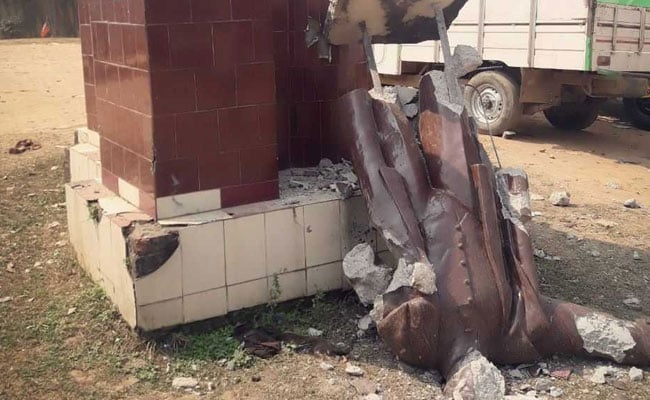 Agartala:
A statue of the communist icon Vladimir Lenin, which was pulled down by a group of people at Belonia in South Tripura district will be kept at the municipal body in Agartala, a top official said.
The nearly 11-feet tall fibre glass statue, which stood on a pedestal at College Square, was brought down on Monday, with a bulldozer.
"We initially let the damaged statue be there as we were not sure about the mood of the people. We let things subside a bit and now, as per instructions from higher authorities, we have decided to store the statue in our office premises," Belonia Municipal Council's CEO, Amit Ghosh told PTI.
Mr Ghosh said, it has not yet been decided whether it will be kept indoor or outdoor at the Council's premises.
"The head is severed from the main body of the statue, so it presents an ungainly sight. We will try to wrap it up in something. Whatever happened is condemnable. Lenin is a world icon," Mr Ghosh said.
The statue was built sometime in 2015 by a local artist, at the cost of nearly Rs 5 lakh. The fund had come from the Tripura Urban Employment Programme, said Mr Ghosh.
"We want to repair the statue but that will also incur expenditure. We welcome anyone wants to contribute for the restoration of the statue... Also, if anyone wants to take the statue, we can facilitate," Mr Ghosh said.
Lenin's statue was brought down at Belonia town, headquarters of South Tripura district, days after the BJP's victory in the Assembly elections in Tripura, where a 25-year-long CPM government was ousted. CPM and its arch-rival in Bengal, the Trinamool Congress, have blamed the BJP for the incident.
Mr Ghosh said, along with a team of the civic body he was at the College Square to transport the statue. "We are handling the statue very carefully, as it made of fibre glass," he said.
Asked if the statue will be re-installed or another one would replace it, he said, "At this point, nothing has been decided. We are also thinking of holding a town hall to let local people decide its fate."
Speaking about more statues in the jurisdiction area of the Council, Mr Ghosh said, "There is one of Karl Marx, located a bit far off. There are also statues of Gandhi and Netaji in the main town."
(This story has not been edited by NDTV staff and is auto-generated from a syndicated feed.)