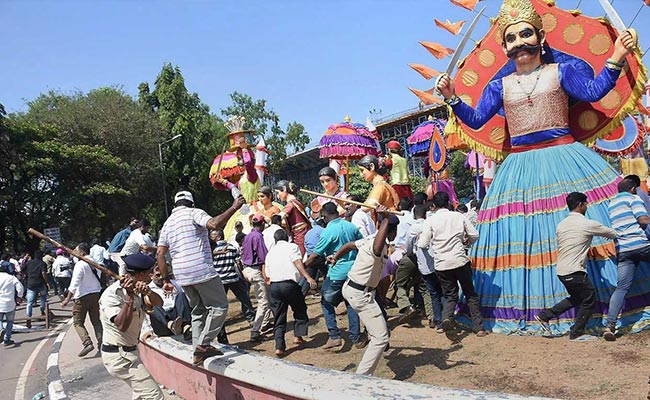 Mumbai:
Defying prohibitory orders, hundreds of people protested in Panaji on Monday against a recent Supreme Court order banning mining in Goa, leading to a lathicharge by the police to disperse protesters who had disrupted traffic by blocking the main entry and exit points to the city.
Several people are reported to have missed their flights as the road from North Goa to the airport was also jammed due to the protests.
The strike call was given by the truck and barge owners against closure of mining activities in the state after the Supreme Court last month quashed the second renewal of 88 iron ore mining leases in Goa in 2015. The court had also directed the state and central government to grant fresh environmental clearances to those whose licences had been renewed for the second time.
Despite an appeal by the ruling BJP not to take to the streets, hundreds of people dependent on mining marched to the state capital, protesting against the closure of mines and demanding that mining operations resume.
Earlier this month, an all-party delegation from Goa had met union ministers Nitin Gadkari and Piyush Goyal over concerns the iron ore mining industry had following the ban. The Goa Mineral Ore Exporters' Association (GMOEA) had also approached the Prime Minister's Office to resolve the issue.
"Mining ban is a social and economic disaster as the industry and its stakeholders were just getting back to work after the lifting of the ban last time," GMOEA president Ambar Timblo told NDTV.
"The agitation appears to be due to no clarity going forward as most stakeholders felt that the worst was already behind them, only to be stopped again," Mr Timblo added.
Mining operations in Goa faced a closure in 2012 too, following a Supreme Court directive.
The association estimates that the immediate impact of the recent ban that came into effect on March 15 would be a loss of about 60,000 direct and indirect jobs and affect three lakh people who are dependent on mining besides causing a revenue loss of Rs 3,400 crore to the state.