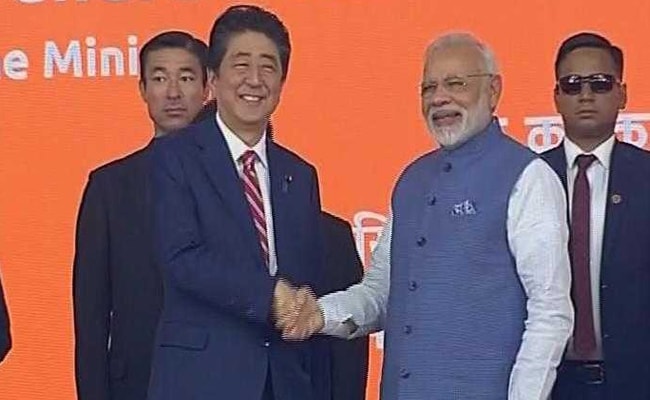 Ahmedabad: Prime Minister Narendra Modi and his Japanese counterpart Shinzo Abe launched India's first bullet train project in Ahmedabad today. The joint venture between Indian Railways and the Japanese firm Shinkansen Technology is expected to cost Rs. 1.10 lakh crore for the first link - a 508-km stretch between Ahmedabad and Mumbai. The new train - which will be able to carry 750 passengers -- will make 70 sorties a day. Its top speed will be around 320 km per hour -- more than double that of the fastest train in India. The average speed will be 250 km per hour.
Here are their top 10 quotes:
The railways is taking a big leap in India. It will be modernized in a short period of time: PM Modi.
Bullet train is all about speed and it will bring employment and development at a fast pace: PM Modi
When I come to India in a few years, I hope to enjoy the beauty of India through the windows of the Bullet Train: PM Shinzo Abe
Hope by 2022-23 the project will be completed and Mr Abe and I will travel in this train as he mentioned: PM Modi
I would like to state that India-Japan partnership is special, strategic and global: PM Shinzo Abe
Look at Japan, a friend that has agreed to loan 88,000 crores to India at only 0.1% interest. True friendship is about more than just money, and Japan has proved it today. I cannot thank Shinzo Abe and the Japanese people enough for their large hearts: PM Modi
Japan is committed to support Make In India. Our industries are working with India to give a boost to manufacturing in India: PM Shinzo Abe
In the US, after its rail network grew, it underwent a massive phase of growth that has lasted since. Similarly, in Japan, when the Shinkansen started in 1964, it changed the face of Japan and took it on a high-growth trajectory: PM Modi
The bullet train will help India increase its productivity. Productivity is the basis of growth. India will focus on 'High Productivity, with High-Speed Connectivity': PM Modi
India can truly become a global manufacturing hub. It can become a large industrial nation and export to the rest of the world. India has immense potential: PM Shinzo Abe
Get the latest election news, live updates and election schedule for Lok Sabha Elections 2019 on ndtv.com/elections. Like us on Facebook or follow us on Twitter and Instagram for updates from each of the 543 parliamentary seats for the 2019 Indian general elections.