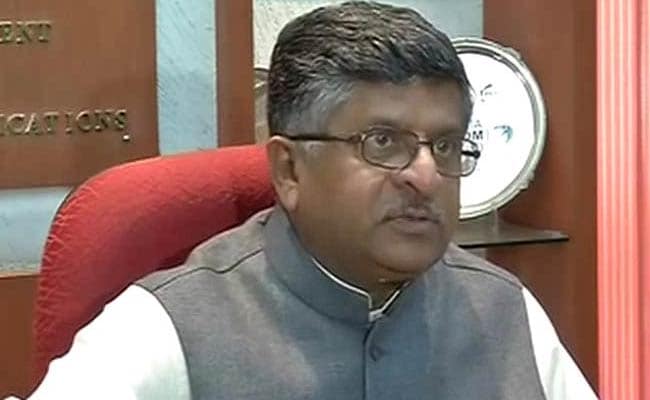 New Delhi:
While defending Section 66 (A), a law that allowed arrests for offensive content online, the government told the Supreme Court that it was ready to come up with "stringent guidelines" to prevent its misuse. Today, Information Technology Minister Ravi Shankar Prasad told NDTV the government, despite supporting freedom of speech, could not demand the law be scrapped.

"This case had been filed before we came to power and was sub-judice," the minister said. Also, "we cannot straightaway say we want it to be scrapped. It is a law passed by the Parliament of India. Therefore we said give us time, we will come up with stringent guidelines," he added.
Mr Prasad also said in its affidavit, the government had contended that they stand by regulations that were consistent with the Article 19(2) of the Constitution which granted freedom of speech.

The court had scrapped the widely criticised law earlier today, saying, "An assurance from the present government will not bind successive ones."

Mr Prasad had said his government would come up with an amended law if needed, after "widest consultation". Welcoming the verdict, he said, "Those in power must be liberal. We respect the freedom of speech and expression. We respect communication of ideas on social media."

At the same time, he also talked about the need for safeguards.
In case of security establishment, if needed, a structured response with due safeguards for terrorism, national security, extremism, communal violence, the government will take a view after the widest consultation," Mr Prasad said.


He advocated, for social media, "some self-regulation by those who post and those who allow the platforms for posting".
A group of petitioners had challenged Section 66(A), arguing it was vague, which resulted in its blatant misuse by the police.
The previous UPA government, which had introduced Section 66A, had contended that it was necessary to combat abuse and defamation on internet. In February, the BJP government, too, echoed similar views.
"People have to take the medicine as it is for their benefit... If the medicine is bitter then we can have sugar after it," Additional solicitor general Tushar Mehta had argued then.