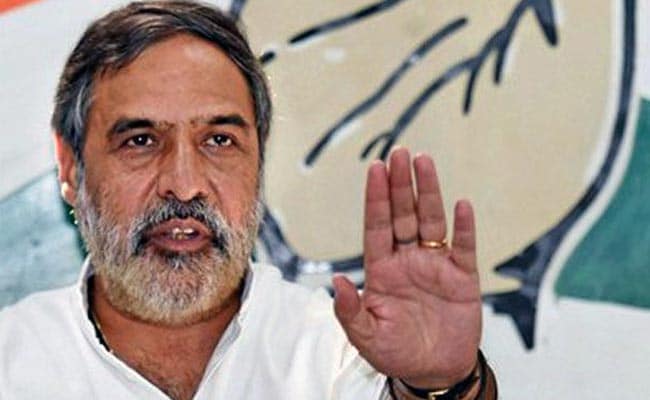 New Delhi:
Days after Congress President Rahul Gandhi tweeted his four-year
report card
for Prime Minister Narendra Modi's government that mostly had "Fs", another Congress leader has his evaluation ready. He suggested that the Bharatiya Janata Party (BJP) leaders seek psychiatric help "if they think that India developed only after the party came to power in 2014".
Senior Congress leader Anand Sharma said that India has not become a "big country" in the last four year, as it was already an economic power before the BJP came to power.
"The GDP was over $2 trillion before 2014. India had institutions like Indian Institute of Science (IISc), Indian Institutes of Technology (IIT) and Indian Institutes of Management (IIM) before Modi ji became the prime minister. Aryabhata, India's first satellite, was launched in 1975. So, if they claim nothing happened before them, then they need psychiatric help," Mr Sharma said while speaking to news agency ANI.
After the completion of four years in power, the BJP said its government is sensitive and committed to development. BJP president Amit Shah said PM Modi has ended the politics of appeasement, dynasty and casteism. He has ushered the politics of development, Mr Shah said.
But Mr Sharma dismissed such claims as the BJP leaders' "marketing skills". He added that the way the party markets itself, it seems that there are no problems in the country, but if put aside all that hoopla, the reality is hard to miss.
"In 2014, people believed in the
BJP's tsunami of promises
. They were promised parivartan (change), employment, return of black money, safety of women etc, but none of that happened," Mr Sharma said.
While underscoring that unemployment has increased during the BJP rule, Mr Sharma said, "Before PM Modi assumed office, he promised two crore jobs a year. If you do simple math, it adds up to 8 crore jobs. But where are those jobs? In fact, they have managed to eliminate 4-5 crore jobs after demonetisation and the hasty implementation of the GST."
With Rajasthan assembly elections in a few months and the national election in 2019, he is positive that his party will have the support of the people, especially youngsters, who he claims, feel cheated by the BJP.
"The youngsters will come with us as they believe in our ideology and know that the BJP has done nothing for them," he said.
(With inputs from ANI)