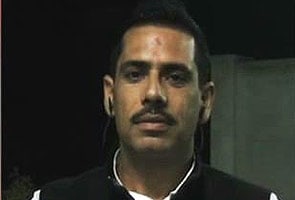 New Delhi:
Even as Rahul Gandhi delivered a series of headlines at a press conference in Varanasi on Monday, it was brother-in-law Robert Vadra who escalated into a Twitter trend after he said he would be open to joining politics, "if that's what the people want." Speaking exclusively to NDTV's Barkha Dutt, Mr Vadra clarified on this and said, "I think there is a time and place for everything." He added that if he joined politics, it would have to be for the right reason. He also told NDTV that if the calling for active politics came in the future, he would cease to be a businessman and focus only on one thing at a time.
Here's the transcript of the interview:
NDTV:
Robert thanks for your time. I am going to first ask you the question which every journalist has asked you ever since you have been in Rae Bareli, are you there in a supportive role for Priyanka, or do we take it that you too are interested in active politics?
Robert Vadra:
I am here to help Rahul mainly, and also as a family member meeting all the workers. Rahul is travelling all around India and all the other places where the elections are going on. Priyanka is reaching everywhere in Amethi, every village, and every person possible. I am trying to meet the workers, and, you know, more to meet them, they are very happy to see me. It was on a motorcycle that I did today, they were full of enthusiasm. And yes, there is always a push after me to join politics, but right now I think the focus is to make sure that all our workers are there. Issues are met with, understood, and somebody from the family can meet each person from this constituency.
NDTV:
Robert you have been barraged with questions from reporters saying, would you consider joining active politics? And you said if people want to, you would consider it. Do we take it that your mind is not closed to the idea?
Robert Vadra:
I have been here at Amethi, Rae Bareli for the last 15 years. I have been working with, for the people, with the people, and I know there is potential that I can do well and make a difference. I think there is a time and place for everything. The day I feel that I can make difference for the people, and the people would like me representing them, and it's a complete focus; because I feel you can't do two things, business or something else and politics. I want to do it for the right reasons and make the difference. That calling will come at some stage I feel.

NDTV:
So if I understand you correctly Robert, you are saying that may be one day in the future you could join active politics, but that day you will leave everything else and do that, and also not run a business?
Robert Vadra:
Politics requires full focus. If you want to make a change for the people, you've got to be completely focused, dedicated and then you can definitely see a change. That is what I feel. You can't do two things. But also being associated with a political family I can't sideline it, or, you know, run away from it. It's a question that everybody asks for, I get along with them very well, and they feel that I could make difference. That is why they keep approaching me as well.
NDTV:
And let me ask you, as you said that you are there to carry forward Rahul Gandhi's message, but Priyanka is also there, she goes in there every elections. I remember when I interviewed her in the Lok Sabha elections, she said when she was younger, she was also quite conflicted about whether she should become a part of active politics or not. And I remember, when she was telling me she went for 'vipasna' and when she came back, she knew that she did not want to be in politics, beyond this role that she already plays. What is your view on whether she should take a more active role beyond what she already does?
Robert Vadra:
But you know she has to make her own decisions. We are all involved to help the people here and most of the time we don't always have media following us. We visit, we meet the people, we see the developments, we see what changes are coming up. It's as I said, that you don't always have to be in active politics to make a difference and help people. But yes, we see ahead as I said, it's her decision as such, you know, if she would like to get into active politics.
NDTV:
Would you like to see her in active politics? What is your take on that?
Robert Vadra:
I think she has a lot of potential, but I sincerely think that there is a time and place for everything. It's really her decision, and yes, I think she has a lot of potential and she can as well serve the people of India.
NDTV:
Can I ask you, because you are of course married into a political family, but you are not a politician yourself. How do you deal with, sometimes, the public scrutiny on your family? For example, the Opposition now calling Priyanka a "barsati mendhak"; her responding back to that? Does that ever get to you, does that ever bother you or do you take it as a part of the turf?
Robert Vadra
: There are many things that go on about my family you know, but it's part of being the, making the difference in India, so people would like to say things. Also the interest is always there, of people of India wanting to know the reactions and so on. But I think we have too much of experience on hand, and I think, as I said, and I will reiterate, that there is, basically we are always here but we don't have media with us the whole time to be covered. We do not want to exploit the situation, we go to help people. May be I work at a charitable organisation, I will never ask a media person to cover me, because I am there to help them and that is what I am there for. So you know, I think we are here very often, not only at the election time. The people know themselves what we mean to them and the difference that we are trying to make at a grass root level. That is all at the moment.
NDTV
: And quickly, as we end, a couple of more questions. Robert, you said you are there to carry Rahul's message. Now Rahul has spoken a lot about how he acknowledges that the Congress needs to be democratised from within, and that's why he has been holding elections to the Youth Congress. But on the other hand, no matter where all of you go, you have a tag of dynasty attached to you. And you know, that now you say that even you could consider coming into active politics at a later stage, a lot of people will turn around and say, oh it's only because you are married into this family. You know you have that dynasty accusation all the time, so how do you deal with that?
Robert Vadra:
As I said, you know, you can't sideline or run away from being part of a political party that has history in India. And I think you basically get focused, do your best, see your chance and don't keep on listening to the accusations, and, you know, any kind of other people's interpretation on whatever is going on. I think you have to be focused and do your best for the people. Having said that, I, yesterday, was in a few villages; I saw how Rahul's efforts of creating the self-help groups have made a difference for women folk here. People of these villages feel, really, I was shocked, because I have been here for 15 years campaigning in and out and I see people today; you know, the women are confident. They are grouped up, they help each other. I think they feel secure. I think this is all hard work created by Rahul at a grass root level. So I don't think we worry about what people feel or say. We just come out here and work for the people, such as in villages, people who require our assistance.
NDTV:
And how do you respond, as a family, to all the clamour that comes for Rahul Gandhi to take on a bigger role in national politics? For him to become the Prime Minister? He has said the media is obsessed with this, he is not. What do you feel as a family member?
Robert Vadra: I feel Rahul has a lot of potential but his focus is on development of the constituency in India as such, and he surely has a bigger role, but I think he wants to focus on development of people. And well, we feel people really would require him, and it's the people's vote if you may, that would like to see him at a top job. And I would say, if you work hard, progress is inevitable.
NDTV:
You sometimes, you and Priyanka, both bring your children to Amethi, Rae Bareli. Do you want an early exposure for them to politics, or do you think in a sense, they have always known it by virtue of being born into this family?
Robert Vadra: We live in a city and we deal with city life everyday. We are fortunate enough to come and be a part of rural India. I don't say we come and exploit anything, I would say that, you know, we come here and we are able to be part of the development. And also our children can see what we have been able to achieve. How people live here and they play with goats and be amongst everybody. We are fortunate to make them understand the rural part of India. And it's a balance, I think, urban and rural, that is what we would like to instill in them. I think we have been able to, and they are climatised and they are quite happy being here. And they are looking forward to next weekend, after school, that they can come back here.

NDTV:
And the last question. I remember Priyanka once saying that when her mother first decided to join active politics, she burst out crying, because she was scared for her life. After all, given what had happened with Indira Gandhi and then Rajiv Gandhi. Now your wife is out there, meeting people every day, milling with the crowds, at least during elections season. Do you ever feel that fear, given the violent history that your family has been subjected to?
Robert Vadra:
I think we take everyday as it comes. Believe me, we are here to give it our best, I think, we don't think otherwise. We are focused on development and getting the right message across. I think, as I said, we take everyday as it comes, and we will give it our best, no matter what happens, I think, in the future as well.