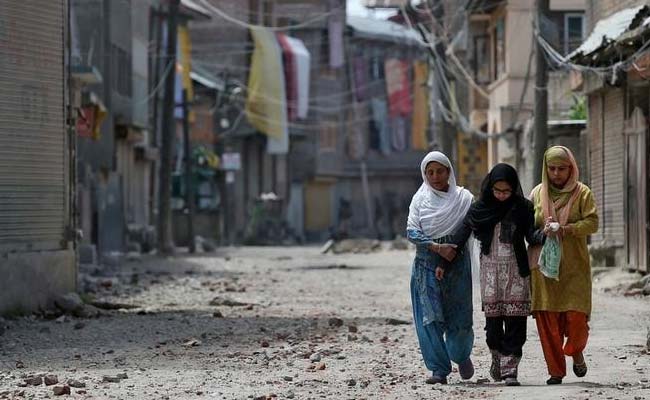 United Nations:
Pakistan-based banned terror outfits Jaish-e-Mohammed and Hizbul Mujahideen recruited and used children in Jammu and Kashmir during clashes with security forces last year, according to a UN report today.
The annual report of the UN Secretary General on Children and Armed Conflict, covering the January-December 2017 period, said globally, over 10,000 children were killed or maimed in conflict last year while more than 8,000 were recruited or used as combatants.
The report covers 20 countries, including war-torn Syria, Afghanistan, and Yemen and also the situation in India, the Philippines and Nigeria.
On the situation in India, the report of UNSG Antonio Guterres said children continued to be affected by incidents of violence between armed groups and the government forces, particularly in Chhattisgarh, Jharkhand and during tensions in Jammu and Kashmir.
Noting "grave violations", it said three incidents of recruitment and use of children by the two terror outfits were reported in Jammu and Kashmir during clashes with the security forces.
"One case was attributed to Jaish-e-Mohammed and two to Hizbul Mujahideen," the report said, adding that "unverified" reports also indicate use of children as informants and spies by the security forces.
The UN said it continued to receive reports of recruitment and use of children, including by the Naxalites, particularly in Chhattisgarh and Jharkhand. "Naxalites reportedly resorted to the use of a lottery system to conscript children in Jharkhand," it said, adding children continued to be killed and injured during operations of security forces against armed groups.
Citing government data, the report said 188 civilians were killed in Naxal-affected regions, but no disaggregated data on children were available.
In March this year, a 15-year-old boy was killed during clash between the security forces and Lashkar-e-Taiba terrorists in Padgampora village of Pulwama district.
Guterres asked the Indian government to put in place measures to hold perpetrators of child recruitment and use to account and engage with the UN to end and prevent violations against children.
In Jharkhand, the report said, suspected Naxalites attacked a school in Khunti district, partially destroying it. With regard to military use, the occupation of over 20 schools was documented by the Central Reserve Police Force in Srinagar, Kashmir, in April.
"Increased tensions in Jammu and Kashmir reportedly also led to closure of school for varying periods, including in Rajouri (65) and Poonch (76) districts," it said.
In Pakistan, the report said, the UN continued to receive reports of the recruitment and use of children, including from madrassas, also, the alleged use of children by armed groups for suicide attacks.
In January, Tehrik-e-Taliban Pakistan released a video showing children, including girls, being instructed how to perpetrate suicide attacks.
The report said while age-disaggregated data on civilian casualties were limited, incidents of children killed and injured in attacks in Pakistan by armed groups were reported.
It cited a suicide attack in Sehwan, Sindh Province in February in which at least 75 people, including 20 children, were killed. Also eight attacks on educational facilities and students, including four targeting girls' schools.