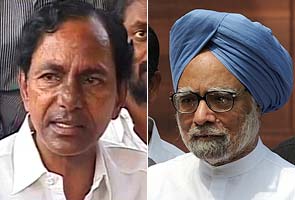 New Delhi:
There seems to be no end in sight to the Telangana crisis. Telangana Rashtra Samithi (TRS) chief K Chandrasekhara Rao met Prime Minister Manmohan Singh today evening, demanding for immediate steps for the creation of a separate state. But, the meeting did not yield much, resulting in KCR, as the TRS chief is popularly known, declaring that the strike in Telangana would continue.
"Prime Minister did not commit to anything on Telangana's formation. He failed to instill confidence in us...Our agitation will continue, we have no choice... The strike will continue till we have a roadmap for Telangana," said KCR after the meeting.
KCR has been camping in New Delhi for the past few days. He met Dr Singh along with a huge delegation consisting members from his party and the Hyderabad-based Telangana Joint Action Committee, which is spearheading the movement for a separate state.
During the meeting, sources said, KCR briefed Dr Singh about the situation in the Telangana region where a general strike has crippled life for the past 22 days.
KCR's meeting with the Prime Minister came just hours after Congress leaders from Telangana met with Dr Singh. They want the Central government to commit to bifurcating Andhra Pradesh to create a new state of Telangana. "Dusshera is one of the biggest festivals in Telangana," said V Hanumantha Rao, a Congress MP. "We will not celebrate due to the stalemate."
After the 30-minute meeting with Dr Manmohan Singh at his residence, senior minister Geetha Reddy said, "He expressed his understanding and sympathies to us. He said we need to solve the problem. ...he did not give us any assurance but he did tell us that he would talk to Congress president Sonia Gandhi."
The issue has confounded the government because while leaders from Telangana are vehement about statehood with Hyderabad as their capital, the two other regions of Andhra Pradesh are opposed to any division. Andhra Pradesh has three regions - coastal Andhra, Rayalaseema and Telangana.
The campaign by pro-Telangana activists has been reinvigorated with a 22-day strike in the region which has affected business, crippled public transport and forced schools and colleges shut.
For the Congress, which is in power in Andhra Pradesh, the situation offers an exceptional challenge. KCR's Telanagana Rashtra Samithi and other parties/groups have been encouraging their supporters to protest at the homes and offices of Congress leaders, taunting them to get their government at the centre to agree to a new state. Congressmen from Telangana say they have to resign if they are unable to deliver their voters' demands.
Last week, Finance Minister Pranab Mukherjee held extensive consultations with partymen from Telangana. Union minister Ghulam Nabi Azad, who is also in charge of his party's affairs in Andhra Pradesh, has presented a report on his assessment of the situation to Congress President Sonia Gandhi. Mr Azad's report was debated at a meeting of the Congress core committee on Friday at the PM's house.