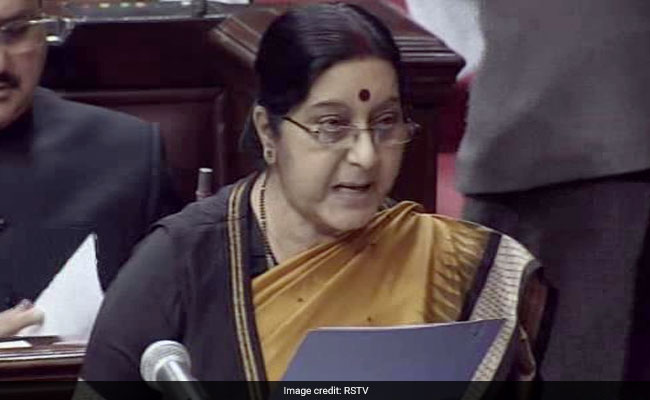 New Delhi:
External Affairs Minister Sushma Swaraj gave a statement about Indian national Kulbhushan Jadhav's family visiting him in Pakistan and the way they were treated there. She delivered her statement in the Rajya Sabha. She is to deliver a statement in the Lok Sabha later in the day. Ms Swaraj had met Kulbhushan Jadhav's wife and mother when they returned from Pakistan on Monday. There has been an outrage over the manner in which Kulbhushan Jadhav's family was treated in Pakistan. Both the government and an angry opposition has condemned the way Pakistan treated the family of Kulbhushan Jadhav, a former navy officer sentenced to death by a Pakistani military court. Mr Jadhav's mother Avanti and wife Chetankul were forced to change their clothes and take off their mangal-sutras, bindi and bangles for the 45-minute meeting on Monday tightly controlled by Pakistani officers. Chetankul Jadhav's shoes were not returned by Pakistan, which claims there was "something metallic" in them and they are being examined by forensic experts. After the meeting, the family was forced to wait for their car outside the Pakistan Foreign Office, which left them wide open for harassment by the Pakistani media.
Here are the LIVE updates of Foreign Minister Sushma Swaraj's detailed statement on Kulbhushan Jadhav's family visiting him in Pakistan:
Gulam Nabi Azad: "I had to say a lot of things. The false allegations that Pakistan has put on Kulbhushan Jadhav can become more problematic if we make too much noise. The disregard that Pakistan has shown towards Mr Jadhav's mother and wife is sad. They have disregarded the women of India. Pakistan government has to assure that they would not disrespect the women of our country in this manner."