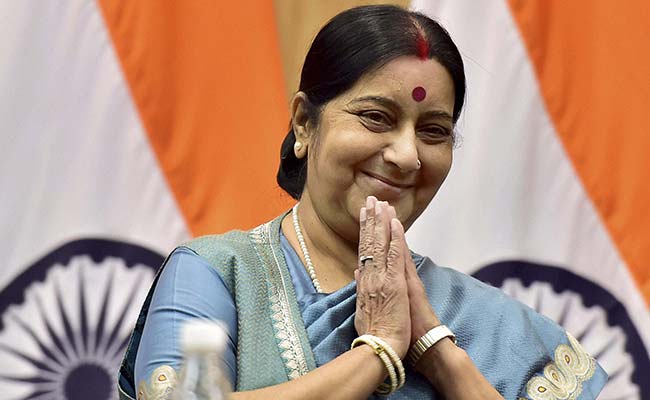 Jerusalem:
External Affairs Minister Sushma Swaraj will visit Israel and Palestine next month to intensify India's engagement with West Asia.
Amid a flurry of planned visits, coming close on the heels of President Pranab Mukherjee's historic visit to West Asia in October, Mrs Swaraj would be visiting the region from January 16 to 19.
The minister, whose appointment was highly appreciated by Israel for her comments in the past dubbing the Jewish state as a "reliable partner", earlier served as the Chairperson of Indo-Israel Parliamentary Friendship Group from 2006-09 and had visited Israel during her tenure.
There has been a lot of hype in Israel over the strengthening of Indo-Israel ties since the NDA government came to power, and the "personal chemistry" between Prime Minister Narendra Modi and his Israeli counterpart Benjamin Netanyahu has been the subject of media discussions.
Mr Netanyahu, who was invited by President Mukherjee to visit India, constantly refers PM Modi as his "friend" and the two leaders have met twice on the sidelines of United Nations forums with the Israeli leader emphasising that "sky is the limit" in strengthening bilateral cooperation in different potential areas.
With agriculture being one of the major areas of cooperation, Agriculture Minister Radha Mohan Singh will visit Israel a few days before Mrs Swaraj's arrival to explore further possibilities.
Israel has set up several 'Centres of Excellence' in India to promote bilateral cooperation in agriculture.
Drip irrigation, water management, renewable energy are among major areas of focus during the planned visits even as a parliamentary delegation comprising five lawmakers from different political parties of India are currently in Israel as part of diverse efforts to promote Indo-Israel ties.
Indo-Israel defence ties have been highlighted by joint ventures with the Jewish state showing inclination towards sharing technology and even doing joint marketing of products.
The recent test of jointly developed Barak 8 anti-missile system has built confidence in such ventures with many others being in the pipeline. Israel has emerged as the second largest defence equipment supplier to India after Russia.
Mrs Swaraj would also be meeting Palestinian leaders to re-affirm India's consistent support for the Palestinian cause.
India is executing several projects in Palestine to improve the living conditions of people and has been active in capacity building through extending scholarships to Palestinian students and building schools.