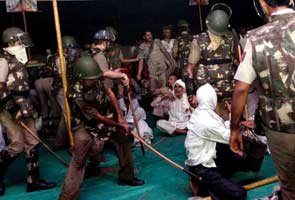 New Delhi:
The Supreme Court has decided it will watch footage of how Baba Ramdev's yoga camp in Delhi was broken up by the Delhi Police. The court will spend August 5 reviewing the visuals recorded by security cameras at the camp and news channels.
There were reportedly 65,000 people attending the yoga teachers' camp at Ram Lila Maidan in Delhi in June when the police tear-gassed and lathi-charged the crowd late at night. "We want to know what were the circumstances and this should not happen again. Innocent citizens should not be beaten," said the judges hearing the case.
The Delhi Police has said that while the Baba had been sanctioned a permit for a mass-yoga-session for 5,000 people. Instead, the police says, he turned it into a political protest.
Baba Ramdev had begun an indefinite fast against the government's policies on how to recover black money channeled into foreign bank accounts by Indians. His hunger strike began despite a private treaty he had reached with the government which stipulated that his fast could not last more than a few token hours.
When the Baba refused to call off his hunger strike, the government asked the police to step in. The yoga teacher tried to evade the police and disappeared into the crowd. He was found near the railway station a few hours later, disguised as a woman.
In June, the Supreme Court asked the Centre and Delhi Police to explain why the camp had been dismantled with force. Opposition parties and Baba Ramdev have described the government's action as a "murder of democracy."