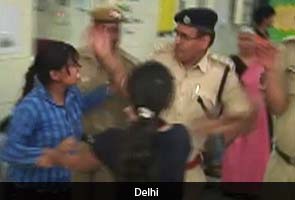 New Delhi:
The Supreme Court has asked the Delhi Police to explain why a young woman protester was slapped while she was demonstrating outside a hospital where a five-year-old who had been raped was being treated. The court has also condemned the Uttar Pradesh government and has asked it to file an affidavit explaining why a woman in her 60s was beaten up by policemen in Aligarh last week during protests over the rape and death of a six-year-old.
Both assaults were caught on camera and broadcast on news channels. The judges have described them as "insult to the country."
Expressing their shock and anger over the UP attack, the judges told the state government, "Even an animal won't do what the police officers are doing every day in different parts of the country." "Is your (UP) government left without shame?", they added.
(Watch: Shocking police brutality caught on camera in Aligarh)
The Chief Secretary of UP has been asked to submit his response, but he is travelling to Harvard with Chief Minister Akhilesh Yadav, who will expound on how his administration handled the massive arrangements required for the Kumbh Mela.
The Delhi Police officer seen slapping the woman protestor was suspended a few hours after the attack on Friday.
(Watch: Woman protester at Delhi hospital slapped by senior policeman)
That evening, the Prime Minister said police action against the protesters was "completely unacceptable." 48 hours later, he said in a speech, "There is need for showing concern and sensitivity while dealing with public anxiety".
The street protests that were held on four consecutive days against the horrific assault on the five-year-old asked for the resignation of Police Commissioner Neeraj Kumar.
The child's parents said that when they reported her missing, the police was reluctant to help. She was found two days later in a room right below where her family lived in East Delhi.
Her husband alleged that the police offered him Rs. 2000 to keep quiet about his daughter's ordeal. On Wednesday evening, he was shown photographs of different officers at the hospital where his daughter is recovering, and identified the cop who offered him a bribe.