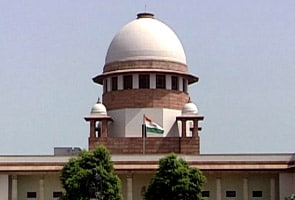 New Delhi:
Allegations of fake encounters by security forces in Manipur will be investigated by a three-member commission, the Supreme Court said today.
The top court said former Supreme Court judge Santosh Hegde, former chief election commissioner JM Lyngdoh and a senior police officer will be in the commission. After they give consent, the court will pass formal orders next week.
A petition in the court had alleged more than 1,500 fake encounters in Manipur in the last three decades and demanded a probe by a special investigation team.
The Supreme Court said five encounters would be investigated to begin with and the rest would be considered later.
"We hope the commisison headed by Santosh Hedge will bring justice," said human rights activist Babloo Loitongbam.
One of the petitioners, 28-year-old Neena Ningonbam, recounted how her husband went missing in November 2008. "We were having lunch. Security forces came and took my husband away. His body was found after a few days," she alleged.
The Centre opposed the commission and pitched for a probe by the Central Bureau of Investigation. But the court said: "Even magisterial reports of encounters are not sent to the National Human Rights Commission. There's an urgent need for an independent probe by people of eminence."