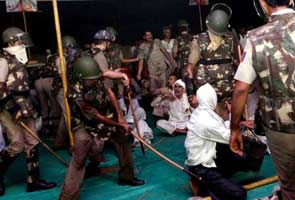 New Delhi:
The government has been asked by the Supreme Court to explain why yoga icon Baba Ramdev was evicted from his camp in Delhi on Saturday night.
Union Home Secretary G.K. Pillai and Delhi Police chief BK Gupta have been given three weeks to outline the events that led to the police lathicharging and teargasing a crowd of nearly 65,000 people at the Ramlila Maidan.
A notice was also issued to Delhi Chief Secretary P.K. Tripathi.
"This will reinstate people's faith in the judiciary. I thank the Supreme Court for the notice to the Centre," the Baba said addressing his supporters in Haridwar, where he has resumed his fast.
The events of the weekend have created a political tsunami for the central government. Various opposition parties and activists have described the government's action as "a murder of democracy." The BJP has compared the government's decision to the atrocities committed by the British at Jallianwala Bagh. (
Read: How the Ramdev crisis developed
)
Baba Ramdev was on a hunger fast against corruption along with 65,000 followers when the police, on the government's orders, decided to dismantle the elaborate camp that had been set up at Delhi's Ramlila Maidan. 65 people were reportedly injured. (
In Pictures: Baba Ramdev's satyagraha
)
The Baba was caught dressed as a woman while heading away from the camp towards the railway station. He was deposited via special plane in Uttarakhand and has been banned from entering Delhi for 15 days. His hunger fast continues. (
Read: Police found Baba Ramdev dressed as a woman
)
The Baba wants the government to agree to a charter of demands that focuses largely on recovering black money that has been stowed away in foreign bank accounts. Last week was spent in fraught negotiations with the government. On Saturday evening, the talks fell apart with both sides accusing each other of betrayal.