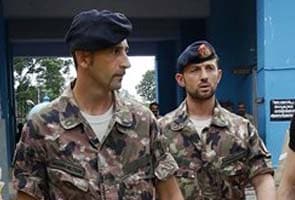 New Delhi:
Two Italian marines charged with killing two Kerala fishermen in sea waters last year were today allowed by the Supreme Court to go to Italy to vote in elections.
Marines Massimiliano Latorre and Salvatore Girone will be in Italy for four weeks. This will be their second visit after the Kerala High Court allowed them a two-week home stay during Christmas last year.
Italy votes on February 24-25. The Italian government has given an undertaking in the Supreme Court that Massimiliano Latorre and Salvatore Girone will return to India after the voting.
The top court today pulled up the union government for not setting up a special court, as directed on January 18, and said this was delaying their trial.
On February 15 last year, Massimiliano Latorre and Salvatore Girone allegedly shot dead two Indian fishermen off the Alappuzha coast in Kerala, suspecting them to be pirates attacking their merchant vessel.
They are on bail and staying in Delhi, where the Supreme Court has ordered their trial to be held in a special court, saying Kerala doesn't have powers to try the case.