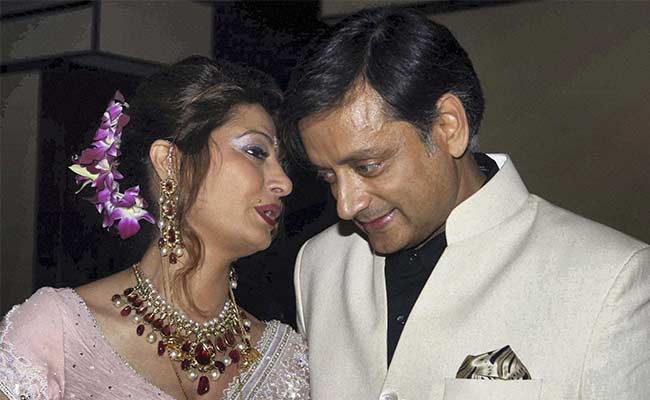 Highlights
Days before her death, Sunanda Pushkar wrote to husband Shashi Tharoor
"I have no desire to live...all I pray for is death," she wrote, say cops
Cops say she died of poisoning, have accused Tharoor of abetting suicide
New Delhi:
About a week before her death, Sunanda Pushkar had emailed her husband, Congress MP Shashi Tharoor, that she had "lost her will to live", the Delhi police said in court today after submitting a 3,000-page charge-sheet that accuses Mr Tharoor of abetting her suicide. Her mails and messages on social media have been taken as her "dying declaration", the police told the court that will decide whether to summon Mr Tharoor as an accused.
"I have no desire to live... all I pray for is death," Sunanda Pushkar wrote in the email on January 8, nine days before she was found dead in her suite at a luxury hotel in Delhi, the charge-sheet reveals.
Her death, the court was told, was due to poisoning. Some 27 tablets of Alprax were found in her room but it is not clear how many she had.
The
charge-sheet quotes a special investigation team
as stating that Shashi Tharoor "as a husband ignored Sunanda when she was sliding or slipping into depression and she had Alprax." They had frequent fights, it says, and "though injury marks were not serious, they are consistent with claims that the couple fought." She had also been taking anti-depressants.
The two had a very public argument on Twitter over Sunanda's suspicion that her husband was having an affair with a Pakistani journalist. The 51-year-old was
found dead in her hotel bed
two days later, on January 17.
"He ignored her calls and disconnected her calls in the days before her death," the special probe team found.
Sunanda Pushkar used social media to reach him, but those messages were also ignored, says the charge-sheet.
The Tharoors, who married in 2010, had a huge row on a flight from Thiruvananthapuram to Delhi two days before her death; the fight continued at the Delhi airport, the police said. She confided in her friends, who have reportedly revealed these details in their statements to the special investigation team. The public prosecutor said all the statements have been video recorded.
Shashi Tharoor, a parliamentarian from Kerala and a former Congress minister, calls the charges of abetting his wife's suicide "preposterous".