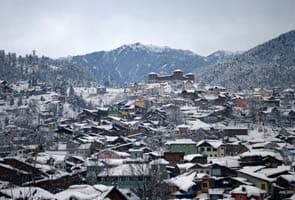 Srinagar:
There was no relief in sight from the bitterly cold conditions on Friday with night temperatures dipping further below the freezing point across the Kashmir valley.
Srinagar recorded a minimum of minus 4.3 degrees Celsius. The night temperature fell to minus 7 degrees in Pahalgam while it was minus 10.2 degrees in Gulmarg, a weather official in Srinagar told IANS.
Kargil town in the Ladakh region was the coldest at minus 16.2 degrees while Leh recorded minus 14.2 degrees.
"The weather is likely to remain dry till Saturday. Night temperatures can fall further because of clear night skies across Jammu and Kashmir," the official said.
The surface of the iconic Dal Lake here was found partially frozen in the morning. Boatmen fishing in the Lake experienced difficulty in rowing through the frozen surface.
A thin film of frost also gathered on the roads and highways.